Want a career that takes you places?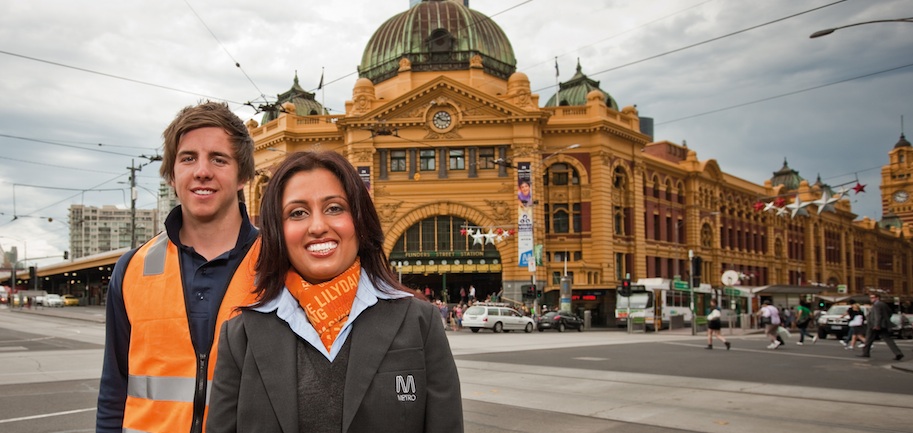 At Metro you'll work with people who'll help you get where you want to go. Determined people who go the extra mile and get things done. Friendly people who can work together to deliver the service our customers deserve. Brilliant people who care about the right result.We're an equal opportunity employer offering competitive salaries and benefits including flexible work structures, training, career planning and ongoing professional development.
Make every customer experience great. Working in some of Melbourne's busiest railway stations, you're a critical part of the active and dynamic team that ensures our 400,000 customers a day reach their destinations on time, safely and comfortably.You'll get extensive hands-on experience in the safe and efficient running of a growing railway operation.
Our people 'on the ground' are some of the most important people in our business. They're the people who look for new ways to make every minute count and get our customers where they need to go. If you're a great communicator and enjoy working with people, then take a look at the career opportunities in our Customer Service area.
Train Services is Metro's engine room. A role in Train Services is the ultimate in team work, problem solving and innovative thinking, so if you enjoy a challenge there's plenty for you to explore.Train Services is responsible for managing and planning the train driving, signalling, rostering and support staff who deliver our 2,000 services every day. From scheduling the train fleet to planning the roster for 2,000 drivers and railway station staff, Train Services ensures sure we're up and running at any time of day.You'll be working with lots of different people – from those who drive the trains to those who control the network and those who generate customer information so that our 400,000 customers get where they need to go on time, comfortably and safely.
Metro HQ is home to a cohesive team.Whether you're interest is finance, HR, legal, marketing, management, business development or IT, Metro HQ is home to a cohesive team.Everyone shares a passion for what they do – from accounting and payroll, procurement and risk management to developing a customer communication campaign and negotiating commercial contracts with suppliers. And they all know they're an essential force behind the success of our business.
Like you, our people have great technical skills, loads of creativity and love innovation. And of course, teamwork is how we get the job done. If you're looking for a role that gives you experience across many different business areas, offers great variety, consistent challenges and the support you need to grow your career, Metro HQ could be the place for you to call home too
Project management is one of the fastest growing professions. It's about making things happen. So if you can think broadly and strategically, are good at getting things done, like working towards a strategic goal, and ensuring everything works seamlessly, a career in projects may be right for you.
The nuts and bolts of the railway. Engineering & Maintenance supports one of the largest overground railway networks in the world and is implementing new asset management techniques developed by MTR Corporation in Hong Kong.Whether it's replacing railway sleepers and electrical overhead lines, or maintaining train pantographs and traction control systems, upgrading bogeys, implementing new telecommunications and passenger information systems, your work is critical to ensuring our trains are running and keeping our customers safe.
If you know how to get the most out of limited resources and enjoy a challenge, Engineering & Maintenance has lots of career paths for you to explore.
---
Thinking about living and working in Melbourne?