Careers at Metro
Explore careers
Take a look at some of the careers available at Metro – there are opportunities for both rail and non-rail workers at Metro.
Visit our  
job search page
to s
ign-up for job alerts that
match your skills and interests.
Metro's Operations
Our Operations team delivers Melbourne's metropolitan rail network, where every journey matters. The team keeps the network performing at its optimum level day in day out to provide passengers with on time, reliable and efficient services.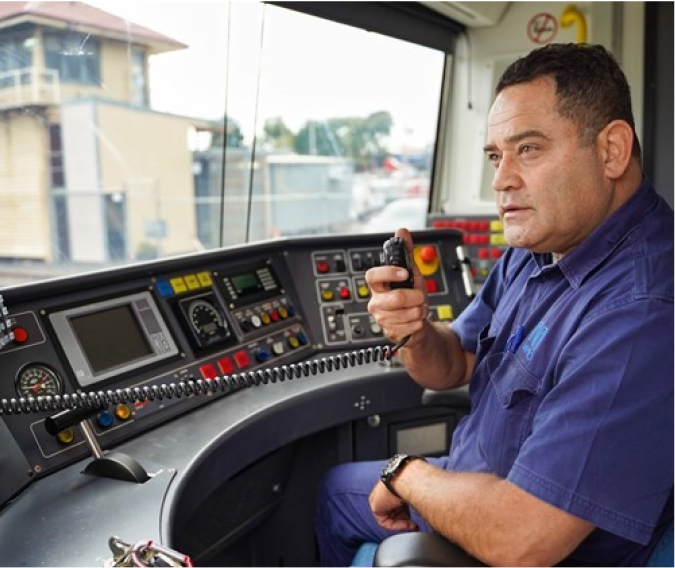 Fast-Paced, Dynamic and Diverse
Operations is a fast-paced and dynamic environment where no two days are the same.

Operations
Ensuring our railway network is operating at its peak, providing on time, reliable and efficient services for the people of Melbourne

Operational Readiness
Integrating Victoria's Big-Build into the Melbourne Metropolitan Railway
We are busting the myth that careers in rail are just for men; in 2009, there were 26 female train drivers working for Metro – and in 2022 there are more than 500.
Operations Roles at Metro
Train Driver
Be responsible for the safe and efficient operation of trains across the Metro network.
Work toward timetables or special schedules.
Operate day to day duties within the set guidelines following all policies and procedures.
Make public announcements on the train to communicate with passengers.
Communicate with internal stakeholders.
Complete a fully paid 44-week full time intensive training course.
Work across a rotating roster and have the flexibility to work shifts. commencing from a variety of stations during operational hours (trains run 24 hours on weekends).
Adopt Metro's Zero Harm culture.
Relief Signaller
Perform an important role in the train control function
A Signaller is the traffic lights and the steering wheel for trains within that Signaller's area of control.
This role is essential to the safe and on time running of our trains and shares responsibility for the safety of thousands of people every day.
Work across a 24/7 roster across multiple locations.
Train and Network Controllers
Monitor computerised screens and manipulate train graphs to understand where trains are in the network and make changes when required.
Liaise with all areas of the rail system via radio to ensure smooth running of trains (Drivers, Signallers, Stations, Authorised Officers).
Point of contact with emergency services in event of emergency.
Use computerised control systems to coordinate the safe crossing of trains and ensure they are on the right path.
Control when the trains stop and start, ensuring they arrive at their destinations on time and manage late and terminated running.
Initiate and manage emergency procedures in the event of an incident and coordinate the train network so that each train within the area remains safe.
Depot Managers
Provide leadership and accountability for all aspects of Depot and Driver performance within allocated Depot across metropolitan Melbourne.
Ensure a high level of safety, performance, engagement, continual professional development and ongoing business improvement.
Support, coach and mentor, a sizeable team of Drivers to ensure ongoing professional development and encourage exceptional job performance
Support the Big Build program of works as required
Operations Managers
Responsible for delivery of a safe, customer-focused rail service through managing the performance of 'day of operations train' control staff.
Overseeing the application and implementation of all safe-working rules relevant to the rail operations environment and effectively coordinating operational resources across the Metro network.
Manage the performance and risk of daily operations in real time.
Key operational interface between Drivers, Train Controllers, Driver Allocation Officers and Signallers.