Accessibility
Passengers with specific needs
This page provides information on supports, technologies and resources available to passengers with specific needs, including those with vision or hearing loss and passengers with invisible disabilities.
Travellers Aid
Based in Flinders Street Station and Southern Cross Station, Travellers Aid offer a wide range of services and can assist you with your travel needs and personal care.
Travellers Aid services include:
a buggy service to help you get around the station
accessible toilets with ceiling hoists, adult change tables and qualified carers to help
a Companion Service to help you get to and from appointments
personal care and meals assistance for people with disabilities
mobility equipment hire
A full list of services is available on the Travellers Aid website.

Passengers who are blind or have low vision
Train Information and Help
We announce the time and destination of all train services before they arrive at the platform. On board, our trains have a visual display and automated announcement system which name the station on approach and also advise customers of the connecting services at that station.
Travelling with Assistance Animals
All public transport services throughout Victoria provide free travel for Guide or Seeing Eye dogs, Guide or Seeing Eye dogs in training, hearing dogs or animals identified by an Assistance Animal Pass. To encourage passengers travelling with an Assistance Animal on board our services, Metro has introduced five new Assistance Animal Relief Areas around the network. The five facilities provide access to appropriate surfacing, water and fencing at Footscray, Parliament, Caulfield, Flemington Racecourse and Showgrounds stations.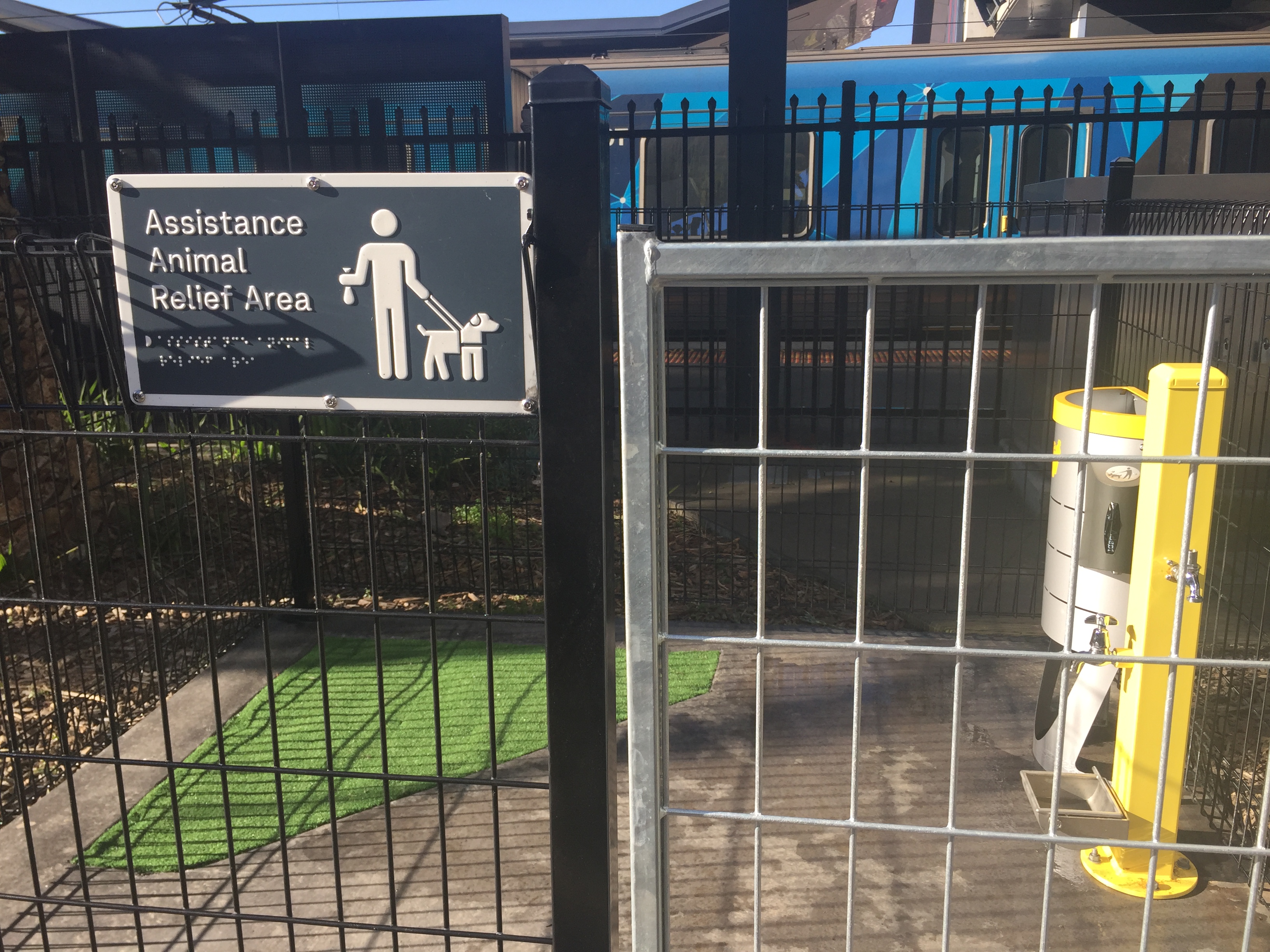 Passengers with communication difficulty or hearing impairment
Passengers with Hearing Impairment
Hearing Loop
Please visit the Station Accessibility Features Guide to see locations fitted with hearing loops.
Look for the internationally recognised 'Hearing Loop' symbol.

Travelling with a Hearing Dog
All public transport services throughout Victoria provide free travel for hearing dogs.
Passenger information display screens
Passenger Information Display Screens are available at the majority of stations across Melbourne and show train times and destinations. Information is also displayed on board our trains.
TTY
TTY services are available (via the National Relay Service) by dialing 9619 2727.  Enquiries can also be made to PTV on 1800 800 007 (voice).
Communication Access Symbol and tools
Metro has been accredited the Communication Access Symbol.  The symbol signifies our commitment to provide accessible services for people with communication difficulty.  Communication tools have been developed to help passengers and staff communicate about travelling on Metro. You can download and print tools by clicking the links below.
These communication tools are copyright material and must not be used or replicated for commercial purposes unless expressly agreed to by Metro.
Picture board, Spelling board and network map – folds to A6
Picture board and network map – A3
Picture board and Spelling board – A3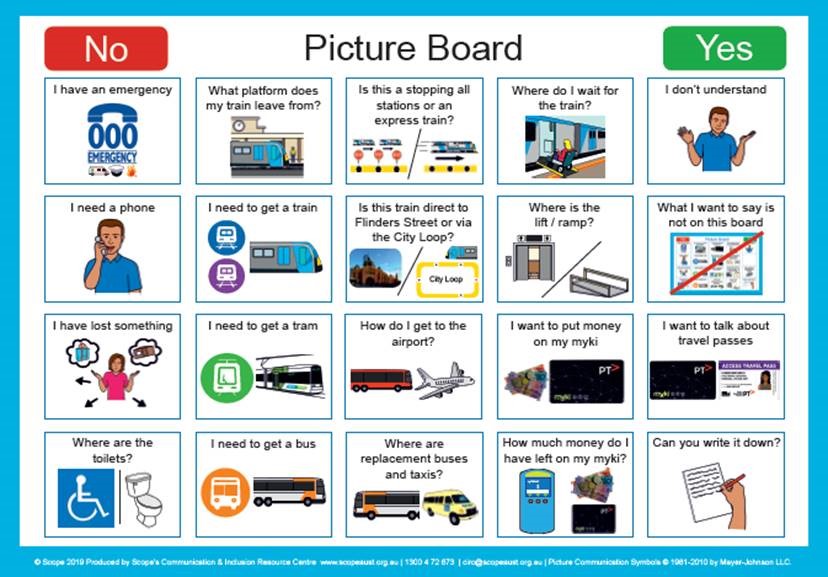 Hidden Disabilities Sunflower program
To support passengers with invisible disability, Metro Trains is part of the Hidden Disabilities Sunflower program. Passengers can wear a Sunflower product to show they might need assistance, or a little more time. You can find out more about the program on our Hidden Disabilities Sunflower page