Good service - trains are running on time to five minutes.
Bus stop relocation at Reservoir Station
Sunday 27 January to Sunday 30 June 2020
The following bus stops in the Reservoir Station bus interchange will be relocated, while Reservoir Level Crossing Removal Project works take place.
– 301 Reservoir Station to La Trobe University
– 552 North East Reservoir to Northcote Plaza via High Street
– 555 Epping to Northland via Lalor, Thomastown and Reservoir
– 556 Epping Plaza SC to Northland SC via Keon Park
– 558 Reservoir via North West Reservoir
– 561 Macleod to Pascoe Vale via La Trobe University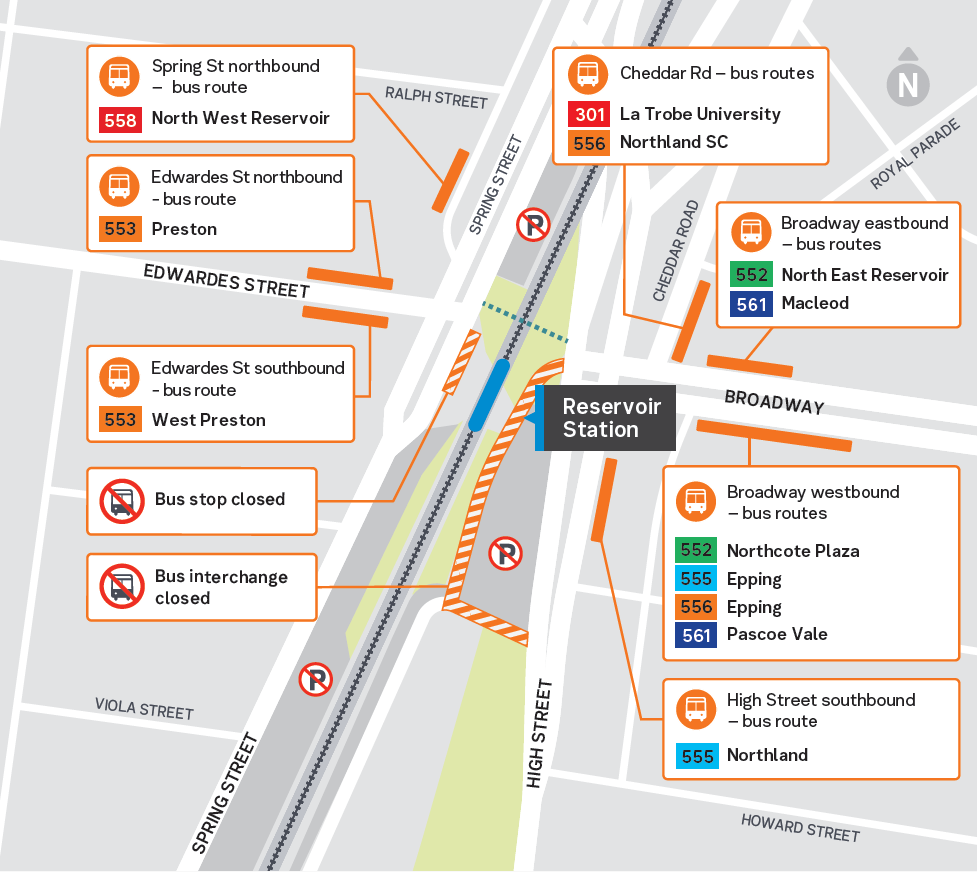 Reservoir Station
Thursday 2 April to Monday 20 April
The Parkiteer bicycle cage at Reservoir Station is closed, while project works take place.
Alternative bicycle cages are available at Preston and Thomastown stations.
| Zones | Station | Facilities | Timetable |
| --- | --- | --- | --- |
| | | | |
| | | | |
| | | | |
| | | | |
| | | | |
| | | | |
| | | | |
| | | | |
| | | | |
| | | | |
| | | | |
| | | | |
| | | | |
| | | | |
| | | | |
| | | | |
| | | | |
| | | | |
| | | | |
| | | | |
| | | | |
| | | | |
| | | | |
| | | | |
| | | | |
| | | | |
| | | | |
| | | | |
| | | | |