Accessibility
Metro is an active participant in making transport accessible to all people. We make ongoing efforts to meet the access needs of all of our customers.
General Travel Information
Planning your journey
Journey Planner can be found at ptv.vic.gov.au/journey .  Timetable information is available here.  For assistance with journey planning, or if you have questions about accessing our services or stations please call 1800 800 007
Further information about more specific accessibility needs and transport can be found at: ptv.vic.gov.au/getting-around/accessible-transport/
Dimensions, Manoeuvrability and Capacity considerations for mobility aids
Please consider the size of your mobility aid before you travel Many boarding ramps are 800mm in width.
Weight limit: 300kg (including occupant and belongings)
Your mobility aid (wheelchair, scooter or motorised vehicle) should:
fit within a space of 1300mm (length) by 800mm (width)
be no more than 750mm wide at a height of 300mm above the ground to fit between the wheel axles of a bus.
In order to manoeuvre effectively to and within allocated spaces, mobility aids should be able to:
turn 180 degrees within an area 2070mm x 1540mm
go up and down a ramp with a 1:14 grade unassisted
go up and down a ramp that is less than 1520mm with a 1:8 grade
go up and down a ramp with a 1:4 grade with assistance
Safety Zones
Safety zones are on all Metro platforms (except for Stony Point line). They are located close to platform entries, recognisable by a yellow striped pattern. Safety zones are monitored by CCTV, well-lit and house Passenger Information Consoles. You can contact staff by pressing the red button on the left of the console to speak with a customer service officer, or press the green button on the right for automated timetable information. Safety zones are not a dedicated boarding point.
Travelling with Assistance Animals
All public transport services throughout Victoria provide free travel for Guide or Seeing Eye dogs, Guide or Seeing Eye dogs in training, hearing dogs or animals identified by an Assistance Animal Pass. To encourage passengers travelling with an Assistance Animal on board our services, Metro has introduced five new Assistance Animal Relief Areas around the network. The five facilities provide access to appropriate surfacing, water and fencing at Footscray, Parliament, Caulfield, Flemington Racecourse and Showgrounds stations.
Station access
All Metro railway stations are accessible via ramp or lifts with the exception of Heyington. Some ramps on the network may be steeper than others.
Wheelchair Movers
Metro has introduced Wheelchair Movers at selected stations to better assist passengers travelling with a manual wheelchair.
The Wheelchair Mover is an electric device that can be clamped to the back of manual wheelchairs of various sizes. Staff will be able to safely assist passengers travelling with an H-frame wheelchair who may have difficulty using station ramps. Most manual wheelchairs with an H-frame are compatible with the Wheelchair Mover.  It is not for use with motorised/electric wheelchairs.
Passengers can request assistance by calling their station ahead, approaching staff or pressing the red emergency buttons on the platform.
The Wheelchair Movers will be available at Richmond, Caulfield, South Yarra, Heidelberg, and Box Hill stations from October 2019.
At times of planned disruptions some stations may not be accessible. Provisions are made to assist passengers with accessibility needs to reach their destination. To find out more about accessibility during specific planned disruptions contact PTV on 1800 800 007 or go to metrotrains.com.au/planned-works/
Buy a ticket
To travel on Metro Trains you'll need a myki. You may be eligible for a concession or free travel pass. For information on how to buy and travel with a myki, or information on different types of concession cards, please visit ptv.vic.gov.au or call 1800 800 007.
Additional Time to Board
Passengers who may need additional time to board are asked to board towards the front of the train where the driver is close by. Passengers with mobility aids will enter and exit at the first door of the first carriage. To keep this area clear, please use an alternative door towards the front of the train.
If You need Boarding Assistance
Wait for the train at the boarding point at the front end of the platform in your direction of travel. As you enter most platforms, you will find a directional decal pointing towards the boarding point (shown below).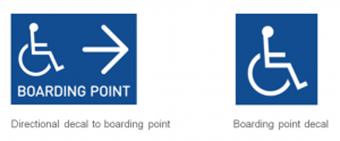 Suburban stations: The boarding point can be identified on most platforms by an International Symbol of Access decal (shown below). If your platform does not have this decal, go to the front end of the platform in your direction of travel and wait at the white or yellow platform marker (shown below). If you are unsure, please press the red button on the left side of the customer help point to speak with a customer service officer or approach station staff.
Trains from Flinders Street, Southern Cross and City Loop stations: These can travel in different directions from the same platform. If you require boarding assistance at any of these stations please confirm your direction of travel and the boarding point location by asking our station staff. All of these stations are staffed every day from the first service until the last service
Examples in photos above of white and yellow line markers at the front end of the platform, including a train that has stopped with the front of the first carriage in line with a yellow line marker.
When the train arrives
Wait at the boarding point. The driver will approach and ask for your destination. The driver will provide a portable ramp for you to board at the first door of the first carriage. If the driver is unable to board you at the first door, the driver will assist you to board at an alternative door (which may vary depending on the type of train). Please listen to the instruction of the driver. If possible, please write down your destination on a note to provide to the driver, or upon boarding tell the driver where you would like to disembark.
If possible, please write down your destination on a note to provide to the driver, or when boarding tell the driver where you would like to go. If you wish to travel across two lines, for example from Watergardens on the Sunbury line to Cheltenham on the Frankston line, tell the driver where you wish to interchange between the two lines, for example at Flinders Street Station. The driver will write this destination on a reminder note and will keep it visible within the driver's cab. The driver will assist you off the train at your interchange point. Continue your journey or seek assistance from station staff, if needed.
Some stations may have a raised boarding platform at the boarding point, or have higher platforms. These upgrades to the platform bridge the gap between the train and the platform to allow passengers to board independently. Drivers are still available to deploy a ramp if needed.
On board
Every train has a Passenger Emergency Intercom, which is a button you will find within the carriage, often near doors and allocated spaces. If you need urgent assistance, press the button to speak to the driver.
Exiting the train
The driver will open the door and provide you with the portable ramp if required.
If using a mobility aid, should you accidentally miss your stop or hear the door closure beeping tone prior to exiting at your intended station, please use the Passenger Emergency Intercom to alert the driver of your need to exit as soon as possible.
More questions?
Look for a Metro employee, visit ptv.vic.gov.au or call 1800 800 007.
Information for Passengers with Vision Impairment
Train Information and Help
We announce the time and destination of all train services before they arrive at the platform. On board, our trains have a visual display and automated announcement system which name the station on approach and also advise customers of the connecting services at that station.
Customer Information Consoles are installed near all station entrances (except those on the Stony Point line). Press the right (green) button on the console for automated train information or the left (red) button for assistance. The information button does not provide real-time information so it's important to listen for announcements during disruptions.
Travelling with Guide Dogs
All public transport services throughout Victoria provide free travel for Guide or Seeing Eye dogs, Guide or Seeing Eye dogs in training, hearing dogs or animals identified by an Assistance Animal Pass.
Information for Passengers with Hearing or Speech Impairment
Passenger information display screens 
At 146 stations across Melbourne Passenger Information Display Screens show train times and destinations. Information is also displayed on board our trains.
TTY
TTY services are available (via the National Relay Service) by dialing 9619 2727.  Enquiries can also be made to PTV on 1800 800 007 (voice).
Stop Here App
Stop Here is an app developed by Metro that makes travelling on our network easier and more accessible. Using location technology on smart phones, Stop Here sends push notifications via a tone or vibrations to let passengers know when they are approaching and arriving at their desired stations. For more information about Stop Here visit metrotrains.com.au/stop-here
Text Messaging Assistance Service
A text messaging assistance service is available daily between the hours of 7am to 7pm weekdays and 9am to 5pm weekends and public holidays.  It is intended for use by passengers who rely on announcements or who have difficulty locating passenger service staff or the red button on platforms.  It is intended for general enquiries related only to Metro Trains, including information on service changes. The service can be accessed by texting 0428 789 329 and responses are typically provided within 15 minutes.
Hearing Loop
Hearing Loop services are available at the railway stations listed below:
Flagstaff
Melbourne Central
Parliament
Flinders Street (Platform 1 only)
Balaclava
Bayswater
Bentleigh
Cardinia Road
Carnegie
Clayton
Coolaroo
Craigieburn
Dandenong
Epping
Footscray
West Footscray
Gardiner
Ginifer
Hawkstowe
Heatherdale
Lynbrook
McKinnon
Mernda
Middle Gorge
Mitcham
Murumbeena
Noble Park
Nunawading
Ormond
Ringwood
Rosanna
Roxburgh Park
Sunshine
Southland
South Morang
Springvale
Albans
Thomastown
Williams Landing
Look for the internationally recognised 'Hearing Loop' symbol. 

Travelling with a Hearing Dog
All public transport services throughout Victoria provide free travel for hearing dogs.
Communication Access Symbol
Scope's Communication Access Symbol is awarded to services and organisations that have met standards to become communication accessible.
This means that:
Staff are welcoming and treat everyone with respect
Staff are able to communicate successfully with people with communication difficulties
Staff have received training in how to provide a communication accessible service
Communication tools are available to help people get their message across and understand what people are telling them.
Metro was awarded the Communication Access Symbol in November 2019. Metro Station Staff, Drivers and Authorised Officers are trained and committed to maintaining Communication Access standards.
Communication tools
Communication tools have been developed to help passengers and staff communicate about travelling on Metro.
You can download and print them by clicking the links below.
These communication tools are copyright material and must not be used or replicated for commercial purposes unless expressly agreed to by Metro.
Picture board, Spelling board and network map – folds to A6
Picture board and network map – A3
Picture board and Spelling board – A3
Metro Accessibility Action Plan
To view a copy of Metro's Accessibility Action Plan (2019 – 2021):