Good service - trains are running on time to five minutes.
Bus stop relocation at Reservoir Station
Sunday 27 January to Sunday 30 June 2020
The following bus stops in the Reservoir Station bus interchange will be relocated, while Reservoir Level Crossing Removal Project works take place.
– 301 Reservoir Station to La Trobe University
– 552 North East Reservoir to Northcote Plaza via High Street
– 555 Epping to Northland via Lalor, Thomastown and Reservoir
– 556 Epping Plaza SC to Northland SC via Keon Park
– 558 Reservoir via North West Reservoir
– 561 Macleod to Pascoe Vale via La Trobe University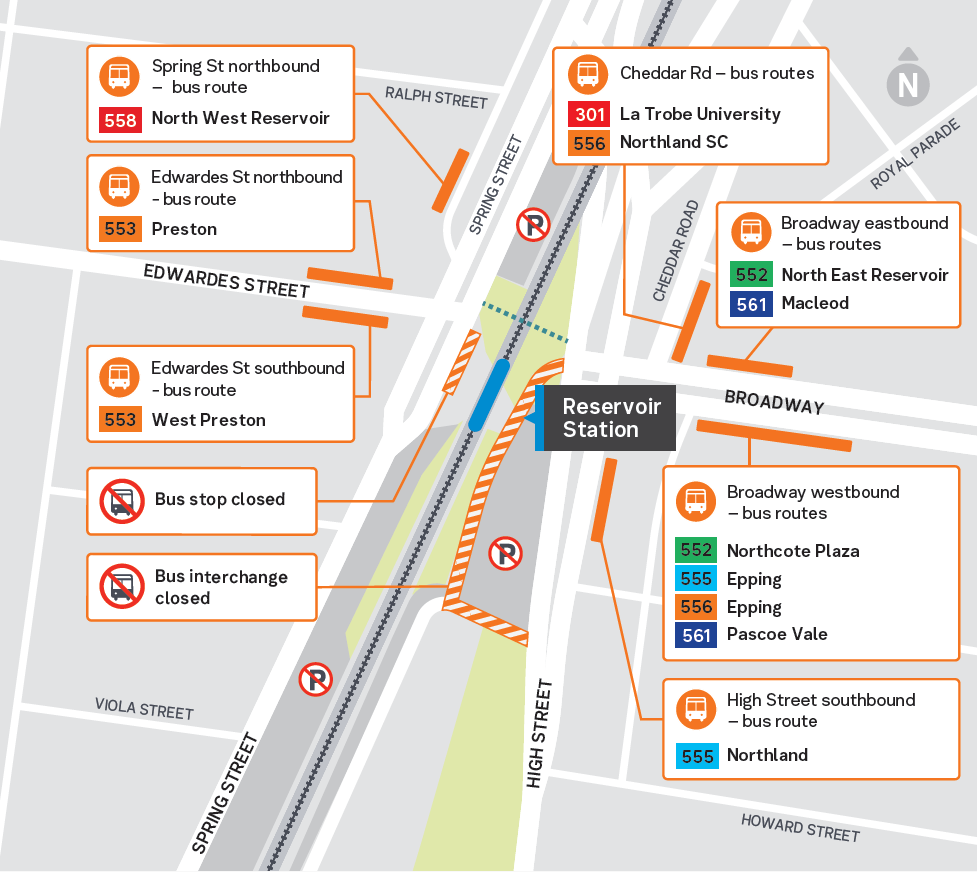 Preston Station
From 5am Thursday 3 October to 5pm Friday 1 November
10 car spaces are closed in the Preston Station car parks for preliminary investigative works as part of the Preston Level Crossing Removal Project.
Regent Station
From 7pm Wednesday 16 October to 7am Friday 25 October
4 car spaces are closed, while project works take place.
From 7am Monday 21 October to 5pm Saturday 9 November
10 car spaces are closed, while project works take place.
During this time, pedestrian detours are also in place around the pedestrian crossings.
Flinders Street Station
Sunday 20 October to Sunday 3 November, 9pm to last train each night
The main entrance to Flinders Street Station under the clocks (on the corner of Flinders Street and Swanston Street) is closed.
During this time, all other entrances are still open.
Keon Park Station
From 7am Thursday 7 November to 7pm Saturday 30 November
The majority of car spaces in the Keon Park Station car park are closed, while project works take place.
Alternate parking is available at the following locations
– 50 car spaces on Macartney Street, Reservoir
– 46 car spaces on Cheddar Road, Reservoir
– 91 car spaces at Regent Station
– 100 car spaces at Moreland Station
Night works
Night works as below, while maintenance takes place.
From 9pm Friday 8 November to 4am Monday 11 November
Between Epping and Mernda stations
Monday 11 November to Wednesday 13 November, 9pm to 4am each night
Between Jolimont and Mernda stations
Due to the nature of the works and heavy machinery required, including special track machines, excavators, front end loaders and chainsaws, medium – high level construction noise will be experienced. While these works take place you may also experience more local traffic from work vehicles and replacement bus services.
| Zones | Station | Facilities | Timetable |
| --- | --- | --- | --- |
| | | | |
| | | | |
| | | | |
| | | | |
| | | | |
| | | | |
| | | | |
| | | | |
| | | | |
| | | | |
| | | | |
| | | | |
| | | | |
| | | | |
| | | | |
| | | | |
| | | | |
| | | | |
| | | | |
| | | | |
| | | | |
| | | | |
| | | | |
| | | | |
| | | | |
| | | | |
| | | | |
| | | | |
| | | | |