Sunbury Line

Minor Delays
11 Mar 18:20 - 19:30
The 6:51pm Watergardens service to Flinders St is cancelled. The following citybound service departs Watergardens at 7:11pm (7:00pm Sunbury service).
12 March 2014 - 31 March 2014
While works take place on the new ramp at Footscray Station as part of the Regional Rail Link project, the lift on platform 5 will be out of order from Wednesday 12 – Monday 31 March.
During this time, access to and from platform 5 will be via the new escalators and temporary stairs at the entrance to McNab Avenue only.
For customers requiring lift access, temporary access arrangements will be in place. For further assistance, please speak to a station staff member or press the red button on the information console on platform 5.
Thank you for your understanding during this time of major works.
For full details please contact the RRL Community Information Line on 1800 107 925 and select option 3, or email info@rrlfdp.com.au.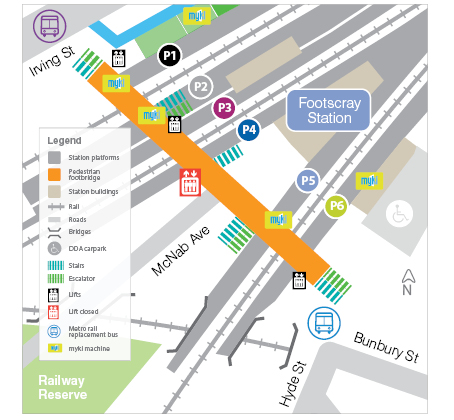 There are no scheduled extra services at this time
| Zone | Station | Facilities | Timetable |
| --- | --- | --- | --- |
| | | | |
| | | | |
| | | | |
| | | | |
| | | | |
| | | | |
| | | | |
| | | | |
| | | | |
| | | | |
| | | | |
| | | | |
| | | | |
| | | | |
| | | | |
| | | | |
| | | | |
| | | | |
| | | | |
Symbol Key
Connecting Bus service(s)

Toilet facilities

Bicycle Facilities

Connecting Tram service(s)

Customer Service

Parking

Lift