We're not kidding around – Metro goats are back on weed patrol
26 Nov 2020, James Ireland
With the Victorian fire season just around the corner, Metro Trains' most famous weed control team, the 'Puffing Billy Goats' are making a comeback.
After the successful deployment of goats to the Belgrave Line last year, Metro's Infrastructure team has been busy recruiting for a new site in Upper Ferntree Gully.
The goats will chomp their way through some of the network's most overgrown shrubbery, reducing fuel loads and ensuring native flora and fauna can thrive.
Infrastructure Vegetation Manager Katrina Lewis says the four-legged eating machines are effective at eradicating weeds such as blackberry and watsonia, and can reach parts of the network that are difficult to access for human vegetation crews.
"Using goats is a relatively new approach, but one that will allow native species to grow while weeds are removed.
"We are putting them in areas that have been hard to access for people, vehicles or machinery. They have proven to be exceptional at their job in the first three sites where they were used," she says.
The goats are also environmentally friendly, reducing the need for harmful pesticides that may have an impact on native flora and fauna.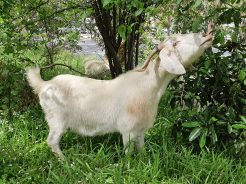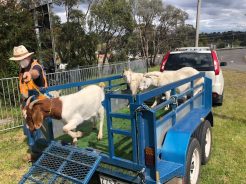 Ms Lewis says, "Goats are a great solution because they are far more gentle on the environment than traditional cutting.
"The goats control weeds by pruning the foliage and leaf buds which exhausts the root system, killing the plant. This in turn encourages native flora and fauna to return to the area.
"They are also a pesticide-free option, and there's no need to remove vegetation waste afterwards as it is eaten or trampled."
Leased from GrazeAway, which also provides the necessary nutrition and care for the animals, the goats will eat their way through weeds for several weeks.
So if you're travelling on the Belgrave Line for essential reasons right now, a reminder that weed control just 'goat' serious.