Puffing Billy Goats chomp through fire hazards
22 Oct 2019, James Ireland
Last week Metro's Vegetation team welcomed a herd of goats to the team to get on with weed clearing near Belgrave Station.
A half-hectare area of bushland at Belgrave Station required a creative weed management solution to safely and effectively clear the area.
A team of 10 goats from GrazeAway, known as the Puffing Billy Goats, have been brought in to chew through the area and clear the weeds over the coming months.
Thriving weeds in the area were making life difficult for native plants and were becoming a fire hazard with summer just around the corner.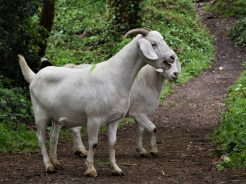 Metro's Facilities Manager Katrina Lewis said, "Metro Trains is always looking at new ways to control weeds around out metropolitan stations.
"To get the site prepared, we have fenced off the area, while all the necessary water, shelter and veterinary checks to be provided by GrazeAway."
The steep, hilly area means getting heavy machinery in to remove the plants was challenging and using pesticides was risky for native plants and animals.
Once the weeds have been killed off, the area can be replanted with native plants, which will make the biodiversity of the land healthier, providing a better home for the native animals.