Safety
We take customer safety seriously and as such, we work closely with the Victorian Police Transit Safety Division to keep our trains and stations safe. CCTV surveillance on trains and at stations, in addition to increased lighting, employee presence and Transit Police Officers on platforms, in stations and in car parks, further improve your personal safety while travelling.
You may also be aware of Victoria Police's progressive roll out of Protective Services Officers (PSOs) at railway stations across Melbourne from 6pm to the last service, to further improve safety at night.
If at any time you feel unsafe on the network please alert a Metro employee. Should an employee not be immediately available, red emergency buttons are available on every platform and in train carriages. In an emergency situation, press the button for assistance.
Safety Tips
Safety around trains
It's a good idea to arrive at your station earlier than your timetabled service to give you enough time to touch on and board your train safely.
Customers who may need additional time to board are asked to board towards the front of the train where the driver is close by. Customers travelling with bicycles cannot board at the first door of the first carriage, as this is a priority area for mobility impaired customers.
Spread out along the platform – this helps avoid crowding carriages.
When waiting for a train, stand behind the yellow line at all times.
Stand aside and allow other people to get off before you board the train.
Never attempt to hold a train door open or to force it open.
Mind the gap between the train and the platform. This can vary depending on the type of train you are exiting and the platform onto which you are stepping.
When the warning tone sounds to close a train's automated doors, please ensure hands, arms and bags are safely on board or removed to the platform.
Only ever cross the train track at designated level crossings. Not only is crossing at an unmarked spot extremely dangerous, it's also illegal.
Safety at night
If you are travelling alone, board the first carriage, closest to the driver's cabin.  Also, try to sit in carriages with other customers, rather than by yourself.
By planning your journey first, you minimise your wait time for services. Check the Metro website or metroNotify app for the latest service information, including line disruptions and delays.
While you wait for your train, stand in a well-lit area, or, if available on the platform, stand in the yellow safety zones located at many of our stations.
At the station
Avoid running at stations, especially in wet weather. Stations may have different surfaces, so take care when moving to and from your train.
Remember, rollerblading, skateboarding and cycling are not permitted on platforms.
Do not board the train if you feel unwell. If you feel unwell while on board, if possible exit the train at the next station and alert a Metro employee. If an employee is not immediately available, press the red, emergency, button on the station platform to speak to a staff member.
Use station bins for litter to avoid creating possible obstacles for other customers.
Please also avoid littering on trains, take your litter with you when you reach your destination.
Travelling with a pram? Click here for specific pram safety tips.
Danger on the network
If you notice any unattended bags, luggage or suspicious activity at a station report it to a Metro employee .
If you feel unsafe and are at a non-staffed station, press the red, Emergency, button at the station. This intercom links to the control room along the train line and will enable you to speak with the control room officer who will be able to assist you and activate emergency services if necessary.
If you can safely move away from present danger, either on the train or at the station, do so in a calm manner.
In the event of an emergency, listen for announcements and follow the instructions and advice broadcast by trained Metro employees.
Community Education Unit (CEU)
The Metro Community Education Unit (CEU) proactively engages with schools and community groups to teach and promote safe train travel. Their objective is to proactively engage school groups to advise on safe utilisation of public transport and the expected standards of behaviour. Click here for more details and to find out how to secure a presentation.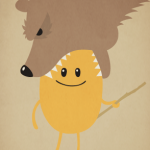 To learn more about staying safe on trains, at stations and at level-crossings, visit
dumbwaystodie.com
and help spread the safety message.