Talented students promote safe travel on Metro trains
29 Jul 2020, Andrew Nelson
Students at primary schools in Berwick and Oakleigh South have taken out the top prizes in Metro Trains' annual rail safety poster competition.
Metro invited children from Foundation through to Year 6 from schools across Melbourne to participate in the 'Safe Travel on Metro Trains' competition.
Mia from Year 1 at Oakleigh South Primary School took out first prize for Foundation – Year 2 for her poster depicting social distancing on station platforms. Her prizes include an Apple iPad Mini and a voucher from Angus and Robertson book stores.
Vinuthi from Year 3 at Brentwood Park Primary School won first prize for Years 3 – 4 for her poster promoting a range of safe behaviours including walking bikes through level crossings, standing behind the yellow line, and keeping a safe social distance from others. She took home a Nintendo Switch game console and game.
Chanithu from Year 5 at Brentwood Park Primary School won top prize for Years 5 – 6 for his poster promoting social distancing and the work of emergency services workers, and calling on people to remove headphones at level crossings. Chanithu's took home a Playstation 4 Pro console and gaming headset.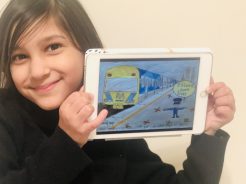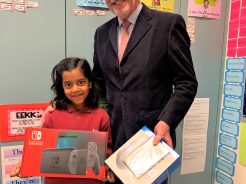 The 2020 poster competition came with its challenges as many school children were learning remotely due to stay-at-home coronavirus restrictions. Metro's Community Education Unit (CEU) quickly adapted to the changes, conducting remote video conferencing sessions with the winning students and their principals.
Metro Community Education Unit Team Leader Luke Martin said the poster competition is a terrific way to engage young people on the importance of being safe around trains.
"This year's competition was unique in that we asked students to combine rail safety messages and the current health advice due to coronavirus – which was a real test of creativity.
"The remote learning requirements presented some challenges and I'm so proud of all our winners and participants – they've really risen to the challenge.
"These posters are teaching better behaviours around trains, which is a job for the whole community."
On average, Metro's CEU organises around 350 schools visits to promote safe travel on trains every year.
The poster competition comes ahead of Rail Safety Week (10 – 16 August), which is an annual Australasian Railway Association (ARA) and TrackSAFE Foundation community awareness initiative held across Australia and New Zealand.