Stopping trespassers in their tracks
10 Mar 2021, James Ireland
As more Melburnians return to public transport a joint operation between Metro Trains and Victoria Police is cracking down on illegal, dangerous and disruptive trespassing.
The operation throughout March aims to catch trespassers in the act, educate people about safe behaviours on the railway, and keep services running reliably for those who depend on them.
Authorised Officers from Metro's Network Security and Surveillance team and the Victoria Police Transit Division will focus their efforts on key trespassing hotspots in the city's west, east and north including Werribee to Hoppers Crossing; Yarraville; Bayswater to Boronia; and Craigieburn to Coolaroo.
Metro's CEO Raymond O'Flaherty says, "Taking a shortcut or getting a thrill is not worth risking your life for.
"As the network gets busier, we'll be out in force with police to crack down on this sort of illegal, dangerous and disruptive behaviour."
Trespassing can involve people taking a short cut across tracks at stations, walking along railway lines and ignoring warning systems at railway pedestrian crossings – all of which can bring services to a halt.
This can cause significant delays on the train network, preventing Melburnians from getting where they need to go on time.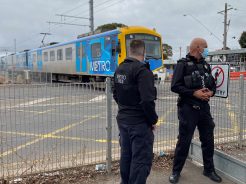 AOs and police will actively patrol stations, pedestrian and level crossings, and rail corridors to prevent trespassing, as well as educate the travelling public about the dangers of walking across railway tracks.
Metro will also deploy a custom-built CCTV trailer – used during major sporting events such as the Spring Racing Carnival and in incident hotspots – to monitor locations for trespassing.
On average, there are 300 trespasser incidents every month that disrupt the Metro network and delay passengers.
In February, Metro delivered 98.2 per cent of the more than 61,000 scheduled services, and ran 95.1 per cent of services on time.
February was a month of significant change for our network as Melbourne adjusted to a new train timetable.
Compared with January, there were more network delays caused by trespassers, vandalism and poor weather.