Simpler and clearer journey information on Metro's Comeng trains
17 Dec 2019, James Ireland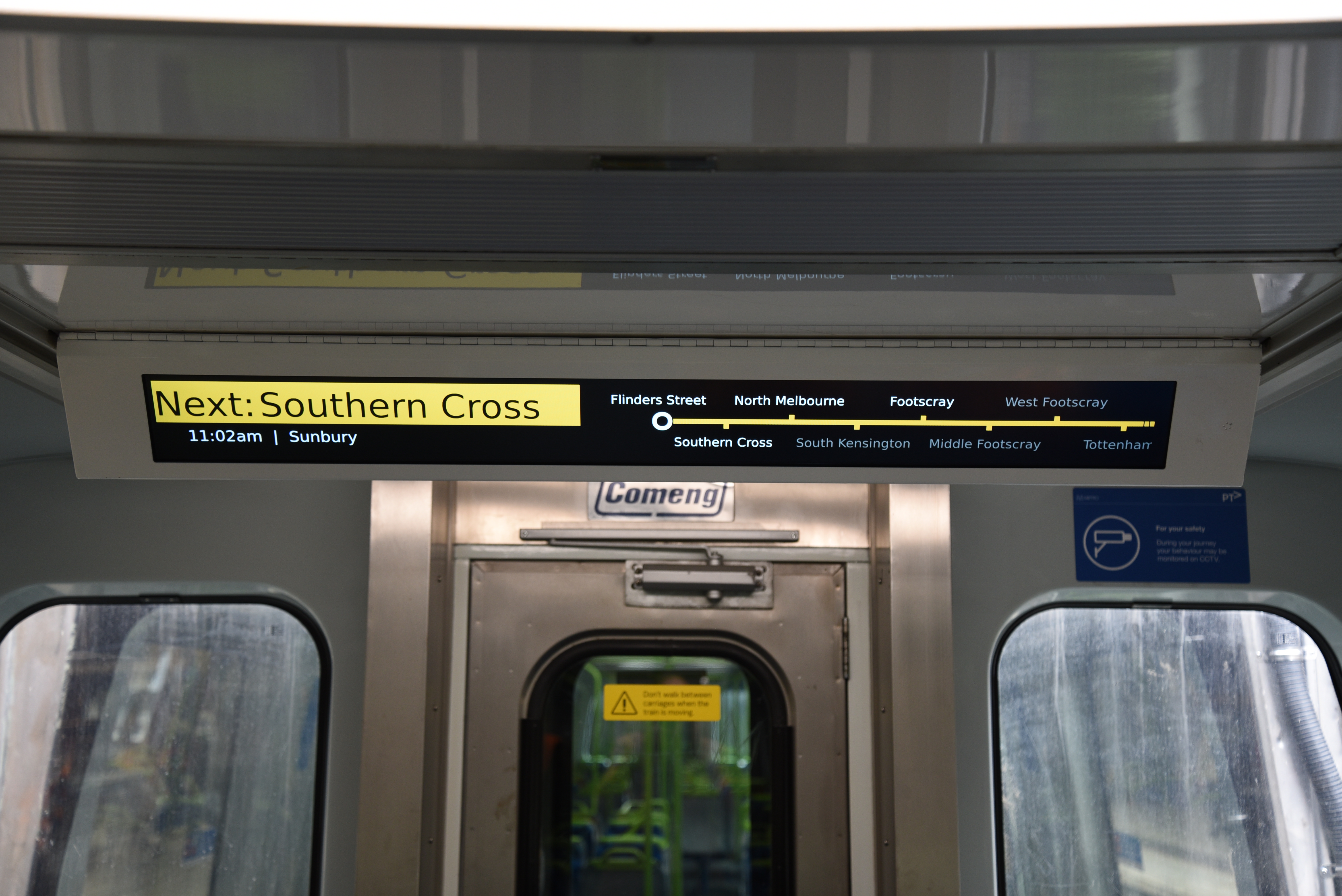 Passengers are getting clearer and simpler journey information as part of the upgrades to Metro's Comeng trains.
The first of the fleet has been given upgraded communications equipment and is now out on the network taking passengers.
The upgrades include real-time, colour passenger information displays which show exactly where the train is on its route.
Metro's Head of Heavy Maintenance Matt Rupena says, "The display will tell you where the train is on the network, how long until it reaches the next station, and which stations it will be skipping if it's an express service."
New high definition CCTV cameras have been fitted with a wider field of view which can be accessed remotely, will support Metro and Victoria Police to provide improved safety.
"If there are any issues reported we'll be able to remotely access the camera, which will allow Metro along with Victoria Police to be able to resolve situations as quickly as possible," says Mr Rupena.
There will also be improvements to hearing aid links for audio announcements, giving and upgraded speakers for clearer on-board audio announcements.
From March next year the upgrades will be rolled out to 29 Comeng trains.
The upgrades are part of the third stage of the state government's $75 million investment to modernise the Comeng fleet, which are the workhorses of Melbourne's train network, having first entered service in 1982.
Public Transport Minister Melissa Horne says, "We've invested a record amount into new rolling stock and we're modernising our current fleet to give passengers a better ride.
"By upgrading critical systems, passengers will have clearer, simpler information and more reliable services so they can get home sooner."
There are also upgrades that aren't noticeable to the passenger, but will improve their performance of the trains, which include improvements to the air compression system powering the brakes, doors, pantographs and traction systems.
The current Comeng life extension project began in 2017, with stages one and two now complete.
Upgrades already complete include safety upgrades to the Comeng's doors, upgrading the interiors and exteriors of the trains and enclosing the walkways between the carriages.
Metro is also retrofitting thousands of wireless data recorders to the X'Trapolis and Siemens fleets as part of the On-board Diagnostic (OBD) project, allowing engineers to monitor the condition of key train systems in real-time and prevent faults before they occur.