Improved train journeys for assistance animals
28 Jun 2019, James Ireland
Passengers travelling with assistance animals now have access to special relief areas on the network.
The Assistance Animal Relief Areas provide space for assistance dogs to take a break and relieve themselves during their journey on the rail network.
There are five relief areas at stations around the networks, Footscray, Parliament, Caulfield, Showgrounds and Flemington Racecourse.
With the support of Victorian accessibility groups, including Vision Australia and Guide Dogs Victoria, the facilities were specially designed and implemented for the Metro network.
Accessibility Manager Laura Edwards said the relief areas were an important step in making the Metro network more accessible for everyone.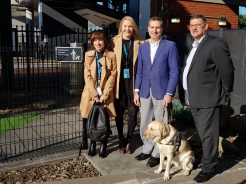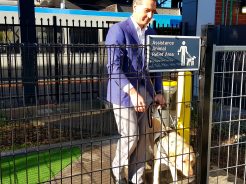 "By introducing relief areas for the hardworking animals that accompany our vision-impaired passengers every day – we are improving the passenger experience," Ms Edwards said.
Debra Simons, a client of Vision Australia Seeing Eye Dogs, was at the unveiling at Footscray Station.
"One of the considerations when travelling with a Seeing Eye Dog is having a safe and secure place to toilet them," Ms Simons said.
"To have them at stations is fantastic, especially for people on long journeys."
Congratulations to the Metro Accessibility team and all those involved in the introduction of these important facilities on our network.