Safer, cleaner trains to keep Melbourne moving during COVID-19
21 May 2020, Andrew Nelson
If there's one thing Metro's Rolling Stock team knows well – it's how to keep Melbourne's trains looking their cleanest.
Mick Rowe and Michelle Mark are on the front line of Metro's efforts to keep trains safe and clean for passengers and employees during COVID-19.
For more than two months, Metro has been delivering an enhanced train cleaning program in response to the pandemic, which includes a requirement for all touch surfaces to be wiped down, and carriages and drivers' cabins sanitised.
With around 200 trains on the network during a typical peak period, it's an enormous undertaking, and it's done with safety front of mind.
And while most Victorians have followed expert health advice and remained at home, the Rolling Stock team and its cleaning contractors have been in overdrive.
Daily meetings ensure that all trains undergo the required cleaning, while nightly compliance checks help maintain the highest possible cleaning and safety standards.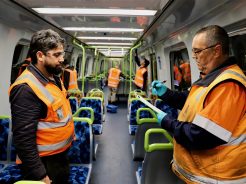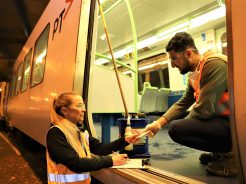 Mick says he's humbled by the 'One Team' mentality to get the job done.
"Our rosters have changed and the nights are long – but the program of work our team is delivering is incredible," Mick said.
"We are ensuring that anyone who uses our trains, whether it's someone getting to work, or families travelling to supermarkets and medical appointments, can do so with confidence."
Michelle says an army of volunteers has ensured the Rolling Stock team can complete all the required compliance checks to keep trains moving for those who depend on them.
"Each night, compliance checks are carried out on all our trains before they can be returned to service," Michelle said.
"We haven't stopped and we'll keep working hard to ensure our people and passengers can continue to travel with us safely."