Reflecting on Rail R U OK? Day
4 May 2021, Andrew Nelson
Rail R U OK? Day is one of the most important events on the rail industry calendar.
It's a day that holds special significance and poignancy for Metro's team of Multi-Modal Authorised Officers (MMAOs) who gather to reflect on the day and its deeply personal connection.
Three years ago, one of their much-loved colleagues died from self-harm.
Since the tragedy, the MMAO team has committed to an ongoing discussion and providing support to team members, with the R U OK? conversation a feature of every meeting, every day.
Team Leader Rehana Rehman said the conversation involved a "welfare check" at the start of each shift to ensure everyone is fit to be at work, and again at the day's end.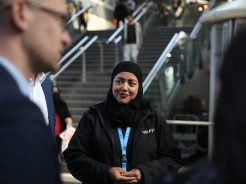 "We do it at any time we see anyone maybe looking a bit down," Rehana said. "You build personal relationships and you start to recognise when people are not being themselves at work from their manner or body language.
"It's important to follow up and provide ongoing support to the person through active listening and encouraging them to get the support they need, and then regularly checking in to make sure they're travelling OK.
"As a leader, my role is to make sure my staff are the best version of themselves, not only at work, but when they go home to their family and loved ones."
Metro provides a number of support services for employees, including a peer support program, wellness advocate program and employee assistance program.
"All these things help build rapport among people which then morphs into a relationship. You need a good relationship and a rapport to build trust within the team," she said.
And it's not just Rehana asking her team of 23 Authorised Officers if they're OK.
"My manager checks in with me regularly to make sure I am OK, and my team also reaches out to me to ask if I'm okay, so they are leading from the front as well. I also have my husband and my family in the background supporting me," she said.
Metro Trains proudly partners with R U OK? and the TrackSAFE Foundation to create a stronger, safer and more supportive rail industry.
Rail R U OK? Day inspires rail employees to look out for one another during life's ups and downs by asking "Are you OK?" and really listening to the answer.
"Rail R U OK? Day reminds us what we need to do as a team to support each other through difficult periods," Rehana said.