Real-time monitoring keeps Metro on track this summer
20 Jan 2020, Andrew Nelson
Metro Trains is monitoring the temperature of metropolitan rail lines in real-time to keep passengers and employees safe, and ensure services can run as reliably as possible during Melbourne's extreme summer weather.
Each Metro line is fitted with electronic monitoring sensors to measure track temperature, and these numbers are visible on a live digital map inside the network control centre.
Metro's General Manager – Infrastructure Peter Munro said train controllers used the technology to enhance decision making, improve safety, and minimise overall disruptions to passengers.
"Extreme heat can have a significant impact on our ability to run trains safely – that's why we monitor temperatures in real-time," Mr Munro said.
"Using the information we obtain from our track sensors, we can minimise the disruptions our passengers feel by only restricting the speed of trains where it's absolutely critical to do so."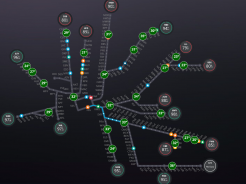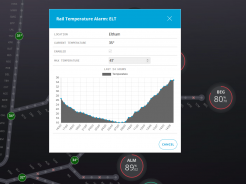 On 20 December last year, the mercury in Melbourne soared to a staggering 44 degrees – resulting in Metro applying 70 kilometre an hour speed restrictions across the entire rail network.
"We spend months in the lead up to days like this making sure our network is as resilient as it possibly can be," Mr Munro said.
When the track temperature of a line or section of track reaches 55 degrees or higher, Metro limits the maximum speed of trains to 80 kilometres an hour.
On days where the ambient (outside) temperature reaches 42 degrees and above, the maximum speed limit is reduced to 70 kilometres an hour across the entire Metro network.
Hundreds of trains were delayed in December due to multiple days of extreme weather, including heat and wind, resulting in speed restrictions and trees falling onto rail lines.
In December, Metro delivered 98.2 per cent of scheduled services and 90.8 per cent ran on time.
There was an increase in trespassing, with incidents causing 784 trains to run late in December compared to 636 in November.
Metro safely and reliably moved 180,000 people to New Year's Eve celebrations in the heart of Melbourne, with 546 additional services and drones deployed to crack down on trespassing.