Police honour the bravery of our Network Security and Surveillance team
2 Dec 2019, Andrew Nelson
The hard work and bravery of Metro's Network Security and Surveillance (NSS) team has been formally recognised by Victoria Police.
Transit Safety Division Detective Inspector, Andrew Gustke, joined GM Safety Operations, Adrian Rowland, Head of Security Operations, David Defrancesco, and NSS Manager, Jim Dimitrioski, at Southern Cross Station for a special plaque presentation.
The plaque recognises the NSS team's excellent work under difficult conditions to apprehend a man for alleged copper theft in the Laverton area.
Officers had been patrolling an area between Laverton and Westona stations, where copper thefts had been occurring over a number of days. The area is known for its swampy and inaccessible terrain.
Thanks to the persistence and quick actions of the NSS officers on duty, a 52-year-old Altona Meadows man was apprehended and later charged with theft and burglary offences.
He is now before the courts.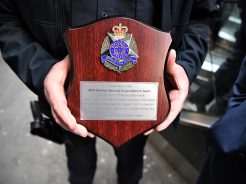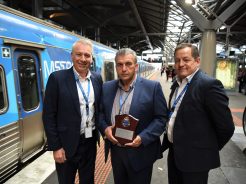 Metro GM Safety Operations Adrian Rowland said four incidents in late October led to 18 hours of disruptions for Werribee Line passengers.
"The repeated theft of copper had a direct impact on the safe operation of our trains through the area, and meant significant delays for passengers on the Werribee Line, including those who rely on services through the Altona Loop," Mr Rowland said.
"This plaque is a testament to the dedication and bravery of our NSS team."
The NSS is a special unit of Metro tasked with cracking down on vandals who tamper with rail equipment, and those who graffiti trains and rail infrastructure.
They also work closely with Victoria Police to reduce trespassing on the network.