On the Metro network, every dog has their day
21 Jan 2020, James Ireland
South Yarra Station welcomed an unlikely canine team member for work experience this morning.
Perhaps furrier than the typical Metro employee, "Ralph" the dog walked himself to Elsternwick Station around 7:30am.
Unbeknownst to his owner, Ralph – the Samoyed-Golden Retriever cross – waited patiently with his fellow peak-hour commuters for the next city-bound service.
He was a very good boy, staying behind the yellow line for safety as the train arrived on the platform.
After the train stopped, the driver made sure Ralph was in safe hands so the service could depart on time to get passengers where they needed to go.
Ralph was helped into the driver's cab and the train was able to depart safely.
As the service arrived at South Yarra, Metro's Station Officer Priyanthi Fernando was ready and waiting to take Ralph up to the station office and begin the process of reuniting him with his owner.
"I ran down to the platform to get him. I wanted to make sure Ralph was safe, and that we didn't delay our passengers," Priyanthi said.
"It was certainly an unusual situation!"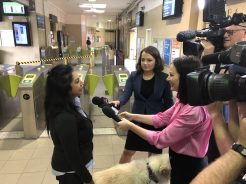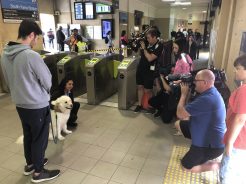 Ralph quickly made himself at home at South Yarra Station – helping passengers with their journey planning, myki top-ups, and of course getting his fair share of hugs and pats.
He took the occasional drink of water and even had a little snooze under Priyanthi's desk.
"Ralph's visit to South Yarra has made every single one of us smile. He can have a job here anytime," she said.
Luckily, Ralph had a tag on his collar with his name and phone number written on it – so successfully reuniting Ralph with his owner was both a simple and rewarding task.
When his owner Sam got to South Yarra Station, the gentle pup had caused quite the stir and Melbourne journalists were racing to get the latest "pooch scoop."
And as a reminder to all dogs – there's no such thing as a free ride. You'll need a valid ticket to travel on the Metro network, just like everyone else.