Metro's pride shines bright on Wear it Purple Day
3 Sep 2020, Jake Smethurst
Flinders Street Station was bathed in purple (and all the colours of the rainbow) last Friday as people from across Metro Trains Melbourne came together to celebrate Wear it Purple Day and show support for LGBTQI+ colleagues, passengers and communities.
COVID-19 restrictions meant traditional celebrations near Flinders Street couldn't take their usual shape, so more than 140 people from across the business tuned in for a virtual morning tea to hear about Metro's commitment to diversity and inclusion.
Speaking at the event, Metro's Diversity & Inclusion Manager Darren Hooper shared a powerful personal experience about being a parent to a transgender child and why it's so important for companies like Metro to take part in events like Wear it Purple Day.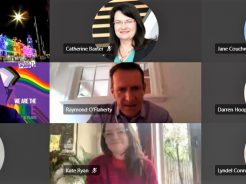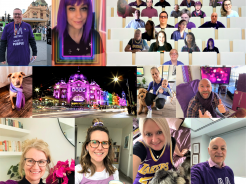 "As the father of a gender non-binary child, and a child that has undertaken gender aligning surgery – working in an inclusive culture means being able to talk about my kids at work. This is as important to me as it is to most of us," Mr Hooper said.
"Celebrating Wear It Purple Day is important and joyful. I am always so proud of the support and enthusiasm across the network for this day. I think it is great that Wear It Purple Day demonstrates our commitment to inclusion and safety for our passengers."
Metro Trains continues to build upon an inclusion strategy through a raft of initiatives such as the Pride Employee Network, working groups and partnering with key organisations such as Victoria Police, Expression Employment and Minus18.
Executive sponsor of Metro's Pride Network and Executive Director Zero Harm Rob Duvel also spoke at the virtual morning tea alongside Chief Executive Officer Raymond O'Flaherty.
Mr Duvel reiterated Metro's commitment to fostering a supportive and empowering culture.
"Even though 2020 has been a strange and very challenging year, our commitment to creating a diverse and inclusive place to work is unwavering," Mr Duvel said.
"We want to make sure all of our LGBTIQ+ colleagues can bring their whole selves to work and that's why recognising Wear it Purple Day is important – even if it can't be in person this year.
"We all have a part to play in creating a great place to work for our LGBTIQ+ colleagues."