Metro veteran's 50 years on the rails
2 Aug 2021, James Ireland
For more than 50 years Metro station officer Felix Tabone worked to keep Melbourne moving.
Rain, hail or shine, Felix was there for commuters on the Lilydale Line.
After starting on the railways as a 17-year-old, Felix spent his entire career working at Melbourne's Lilydale, Croydon and Mooroolbark stations.
On Friday 16 July, 2021, Felix worked his last-ever shift for Metro at his beloved Mooroolbark Station, before hanging up his hat for the final time.
According to Felix, his favourite trains were the old 'red rattlers'. "I loved the drumming noise they made when they got up to speed," he said.
Technology has also changed a lot during his career: "Things have changed a lot since I started back in 1971. The technology has moved on so much. Back then, we had kerosene-powered signals. I used to go out every second day and clean all the signals lenses and fill up the kerosene fonts. Today they have all been replaced with a modern signaling system.
"Back then when we wanted to move a train from one track to another I'd have to go out and physically shunt the points with a lever.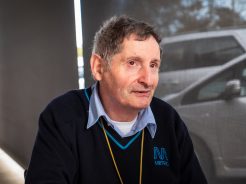 "It was hard work, and took a bit of muscle, you had to be alert and responsible. These days we have automatic track control, which is much easier."
Now he has retired, Felix is looking forward to spending more time with his wife Alexa and working in his flower and vegie garden.
Along with Felix, locals also waved goodbye to Mooroolbark Station, ushering in a new era of train travel in the city's north east.
The station is being demolished and a brand new station built as part of the Level Crossing Removal Project, which will see construction of a new elevated rail bridge to remove the dangerous and congested level crossing at Manchester Road.
The new station will open to passengers on Monday 25 October and will have improved accessibility, and better connections to local bus services. A new car park with more than 900 spaces is currently under construction and is set to open next year.
This work will also benefit the 24,000 vehicles which use the crossing each day, and will lay the groundwork for further line upgrades, including the duplication of sections of the Lilydale Line and a potential new station between Mooroolbark and Lilydale.
The new station will be a fitting legacy of Felix's decades of service to Melbourne's commuters.
Good luck Felix!