Kicking goals: Metro launches partnership with The Fitzroy Stars
13 Apr 2021, James Ireland
Metro has celebrated its new partnership with The Fitzroy Stars Football and Netball Club by joining players and staff for the season-opening round.
Last year, Metro committed to a major partnership with the Stars – but like many community sports clubs last year – their season was cancelled because of coronavirus.
Now a year in the making, CEO Raymond O'Flaherty and members of Metro's Reconciliation Action Plan team joined fellow supporters to celebrate the start of the 2021 season.
Mr O'Flaherty says, "I was honoured to join Elders, club members, coaches, volunteers and supporters to highlight Metro's role as major partner of the Fitzroy Stars, who provide much more than a place to play sport."
"The work of the dedicated team at the Stars brings benefits to the community far wider than what happens on the footy field and netball court."
The Stars not only provide great sporting opportunities for more than 250 men, women and children, but are also a vital community hub – supporting local employment, education and health and wellbeing initiatives.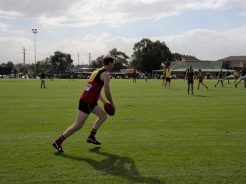 After the launch event, the men's firsts team took to the field for the first game of the season.
Establishing a community partnership with an Aboriginal organisation was a commitment Metro made in its first Reconciliation Action Plan (RAP).
Metro is proud to be supporting the Fitzroy Stars, a partnership that will see mutual benefits of shared knowledge, experience and information to support the economic and social inclusion of Melbourne's Aboriginal community.