Mernda Line passengers: meet your new Reservoir Station
16 Dec 2019, Andrew Nelson
The new and improved Reservoir Station is now officially open to Mernda Line passengers, with the first trains rolling into platforms this morning.
It was an early Christmas present for commuters who now have access to a modern, elevated station – providing better connections to local shopping strips and community precincts.
The opening of the new station and rail bridge over High Street marks the end of a two-week construction blitz, during which buses replaced trains on sections of the Mernda Line.
In a massive team effort, 250 people worked around-the-clock to complete the kilometre-long bridge, install signalling equipment, finish the station canopy, and undertake the necessary safety tests.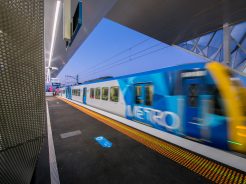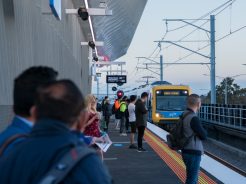 Minister for Transport Infrastructure, Jacinta Allan, joined colleagues from Reservoir Station and the Level Crossing Removal Project for the official station unveiling today.
Final works on the project will continue into 2020 – including installing permanent stairs and lifts at the station, and landscaping with more than 300 trees and 60,000 shrubs and grasses around the station precinct.
Workers will also install new seating and signage and reinstate the bus interchange and shared-use path.
The Mernda Line is used by 33,000 passengers every weekday.
Works to further improve the safety and reliability of services will continue – with four additional level crossing removals planned along the Mernda Line, including new stations at Bell and Preston.