"It can be a job for life" – 40 years of rail for Andrew Anthony
18 Sep 2020, Jake Smethurst
Forty years is a long time in the railway and there's no one better to reflect upon the changes during that time than Caulfield Station Master Andrew Anthony.
After waltzing into Southern Cross Station in 1980 – then known as Spencer Street Station – to find a job in the railways, Andrew spent a few years in the electrical department before taking an opportunity to work on the platforms.
It's a choice he's very glad he made.
"I'm happy with it and I've stuck with it, so I guess overall it has been pretty good to me – I can't complain. You always think of what you've missed or what you could have jumped at but this is what I've stayed with and it's the best option I took up."
Andrew's career has taken him across multiple parts of the network, from picturesque Lilydale and Mooroolbark, to leafy Laburnum and Blackburn, and he says a lot has changed since the early days, especially in terms of safety.
"We used to actually just walk on the track to go and do some manual work like cleaning up the points. You were basically told, 'here's what needs to be done' and that's it, you'd go for it, just watch out for the trains," he says.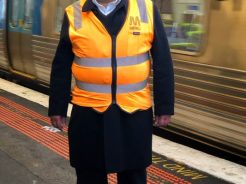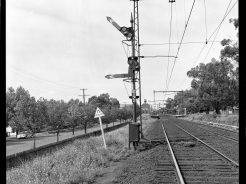 "In the old days we also used to jump across the pit [the section of track between station platforms]. It was totally different, there was no such thing as safety. Nowadays, forget even looking at jumping into the pit to retrieve something, before you even think of that you have to get written permission to enter the track."
Of course we have come a long way in our focus on Zero Harm and safety for our people.
Andrew says the responsibilities of station teams have also changed over time. The days of manual tickets are long over and now it's about roaming the platforms, making public address announcements, and helping make passenger journeys that bit smoother.
"I guess in 20 years a lot of that disappeared as everything went online or went electronic, the job has slowly changed. Most of the time now we spend in the [ticket] office or outside with our passengers."
Another past-time of station teams, but not as well-known, was the important upkeep of the old signalling system. Andrew recalls climbing the semaphore signals and "hanging on for dear life" while cleaning the glass and refilling the kerosene to relight the lamps.
Parcels and other items were also regularly transported across the rail network via passenger trains. Anthony says there were many peculiar items over the years, but one of the most strange was bull semen.
"We used to get regular bull sperm that was dropped off in these big containers that we sent all over Australia for insemination by the farming sector. That was interesting and a new thing, for me anyway," he says.
As Andrew continues to work towards his next career milestone, his advice for anyone starting in the railways is to be open to any idea and be willing to always learn.
"It can be a job for life. Learn as much as you can. There are always other people who'll be happy to assist you through your career, so make sure to learn from them."