Inside Metro's covert Network Security and Surveillance team
21 Nov 2019, Andrew Nelson
The Network Security and Surveillance team (NSS) is a special unit tasked with cracking down on vandals who try to deface trains and rail property, and keeping passengers and Metro workers safe.
NSS officers utilise Metro's 9,000-strong CCTV camera network – which includes cameras at stations and inside trains – as well as state of the art surveillance equipment such as drones and thermal-imaging cameras.
Officers work closely with Victoria Police and other authorities in the field to protect the metropolitan network from crime.
Many of the NSS team's deployments occur under the cover of darkness and includes patrolling known hotspots for trespassers, graffiti vandals and other criminal behaviour.
From train stabling yards to the Melbourne Underground Rail Loop – the NSS works everywhere.
It's challenging and sometimes dangerous work, with officers donning stab-proof vests and night vision goggles when out in the field.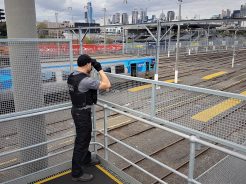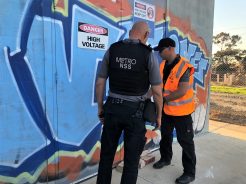 All intelligence including surveillance images and CCTV is provided to Victoria Police to support investigations, and bring graffiti vandals and other criminals to justice through the courts.
​The NSS team responds to graffiti, anti-social behaviour, copper theft, wilful damage of assets and other crimes in and around a network of more than 1,000 kilometres of track.
Officers also work closely with contracted security specialists who patrol railway sidings in an effort to prevent vandalism and graffiti on trains and infrastructure.
Metro's Head of Security Operations David Defrancesco said the NSS is seeing significant and on-going success, with a 49 per cent reduction in graffiti murals year on year.
"The NSS is incredibly proud of its efforts to keep our network safe from crime. The men and women in this special unit are committed to reducing criminal incidents on the network, and ensuring we hold vandals to account," Mr Defrancesco said.
Over the last six months, Metro crews have cleaned an average of more than 23,000m2 of graffiti each month, including tags on stations, rail bridges, and other rail assets and equipment.
Metro spends $10 million annually to tackle graffiti and vandalism across the network.