Ihab's Journey from Iraq to Metro
24 Aug 2021, James Ireland
He fled Iraq with ISIS on his heels, leaving behind chaos, and no access to electricity or water for his family.
Now Ihab Qassab has left behind the constant threat of explosions and danger to be one of Metro Trains Melbourne's EPIC cadets. He couldn't be happier with his new life.
Ihab is a site engineer working for Metropolitan Roads Program Alliance on the Level Crossing Removal project.
He and his family fled to Australia in January 2018 with his wife and three kids, after ISIS occupied his hometown of Baghdeda in 2014.
"My town was my paradise and I had never left it," shared Ihab.
"When ISIS invaded, it was chaos, there was no electricity, no water and sounds of explosions were everywhere."​​​​​​​
Ihab said that there are many things that made his hometown special, like Palm Sunday – a special day where the whole town of Baghdeda would walk around the city, singing and praying together.
"I was one of the choir members. We were singing and praying every Sunday as well as at Christmas and Easter."
While Ihab enjoys singing and sport, poetry writing is what's most important to him.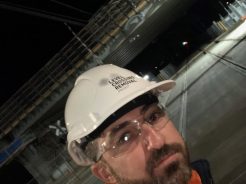 "Yes, I am a poetry writer. I started writing poetry in 1997 at age 12. I now have hundreds of poems in Arabic and Syrian languages. It's the most important and enjoyable hobby of mine," he said.
Ihab came to Australia with a degree in Electrical Engineering from the University of Mosul in Iraq and believes his EPIC cadetship at Metro was his golden opportunity.
The EPIC program employs engineers from refugee or asylum seeker backgrounds and helps launch their careers on Victoria's major transport infrastructure projects.
Metro's Projects division has employed a total of 12 refugee and asylum seeker cadets through the EPIC program, including seven this year.
With the help of Metro, these 12 cadets are given an Australian engineering qualification and paid employment working with LXRP and other project authorities and alliances.
"The dream came true! I am very proud to be a member of the MTM family and I am going to do my very best towards this position, making MTM values and behaviours my guide in work and in life."
Ihab's number one goal was to gain a permanent contract with Metro Trains Melbourne and has since become a permanent site engineer in the signalling field at Metropolitan Roads Program Alliance.
Learn more about the EPIC program here: https://levelcrossings.vic.gov.au/careers/training-for-the-future/epic-program