From Metro to the bushfire frontline: Sylvia Coombe is humbled by the spirit of Australians
14 Jan 2020, James Ireland
After fighting the East Gippsland fires, Sylvia Coombe has been left with one enduring emotion – tremendous pride in the spirit of Australians.
From Monday to Friday, Sylvia works as a Quality Manager in Metro Trains' Safety Environment and Risk Division. When she's not focusing on the safety of her colleagues, she's a volunteer firefighter based at Keysborough – and one of many Metro employees responding to the fire crisis
On 8 January 2020, she was one of five volunteers from her branch that got the call to fight the devastating East Gippsland fires.
"When I was out there fighting fires, I was focused on the job at hand. It's a tough job, but we're trained to deal with these fires, and when you're on the frontline, that training really kicks in and you just get it done."
It was only when she left the fire zone to return to Melbourne that she felt the extraordinary impact these fires had on the people of Australia. It had struck many people at their core.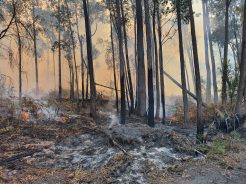 "We saw it through the generosity of the people. It was often the little things, like when we went to a café to get breakfast, and they insisted we take it for free," says Sylvia.
When the coffee came out the cups had 'thank you' messages written on them.
During her time in Orbost, one of many towns isolated by the devastating fires, her team had two main jobs: controlled back-burning to reduce the amount of fuel available, and tackling spot fires.
When she was fighting spot fires Sylvia was armed with a firehose, positioned on the back of the firetruck with another firefighter, as it travelled through the areas at risk of catching fire. She did this in an environment filled with falling trees, burning embers and smoke-filled winds.
She says the thing you notice in an area left devastated by bushfire is the silence.
"It's eerie. There are no birds, no people. It's just quiet."
When Sylvia travelled through the areas affected by the fires, she saw brave communities who had come together to help one another during truly testing times.
"This is Australia at its best. When they were facing heartbreaking situations, these communities came together. They helped each other, and they helped us. Their spirit showed us why we do it. It was humbling."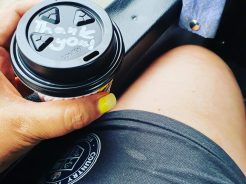 As a woman fighting fires, she is in the minority. In her strike team of 24 members, she is one of only two women.
"There are challenges to being a women and a volunteer firefighter. Practical things like going to the toilet while wearing the uniform. It's a bit easier for the blokes. Also, with work and family commitments, I understand that it can be very hard to do this, especially for women."
While the Keysborough brigade had five people deployed to East Gippsland, the local branch is short-staffed. This means some of her Keysborough colleagues will be on call more frequently to cover the shortfall or volunteers from other local brigades will do more to help out Keysborough.
Sylvia believes everyone should consider supporting their local CFA brigades so they can continue their important work.
"Most of us have full time jobs outside of our work with the fire brigade. If you can help out, it will make a big difference.
"Also, I want to thank all the people fighting these fires, there's a big team behind this, and they are all giving everything they have to put out these fires."