Frankston Line – Meet the new Carrum Station
17 Feb 2020, James Ireland
Carrum is now safer for pedestrians, bike riders and drivers, and train passengers can expect more reliable services.
Built as part of the Level Crossing Removal Project, the new Carrum Station opened today providing a separated rail line, improved transport connections and an overall better community environment.
Today's exciting opening comes at the end of a two-week construction blitz, with a 108-person crew working around the clock to get the job done.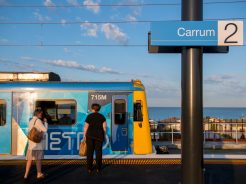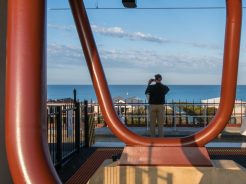 Based on community feedback, the station has been specifically designed to accommodate coastal weather conditions, with weather protection pods, shelter canopies on the platform and wind screens in entrances.
The station will create a town square at its main entrance, a garden at the southern entrance, and a new foreshore park and beach promenade linking Carrum to the bay.
More than 80,000 mostly native and indigenous trees and shrubs will also be planted around the station by the end of the year.
The Station Street level crossing was used by 12,000 vehicles each day, with the boom gates down for up to 49 minutes in the two-hour morning peak – and the road configuration saw drivers zig-zagging through dangerous level crossings with congestion clogging Station Street and the Nepean Highway.
Minister for Transport Infrastructure Jacinta Allan says, "It's great to see the new Carrum Station bustling with passengers right on schedule – we thank residents and local businesses for their patience during a long construction period to get the job done.
"With 34 crossings gone and 26 new stations opened, we're not wasting a minute delivering the road and rail projects our city and state needs."