Following the train of thought on Rail R U OK? Day
30 Apr 2020, Andrew Nelson
Rail employees from across Australia and New Zealand have banded together to ask a simple question – "Are you OK?"
Today is the sixth annual Rail R U OK? Day with the number of people participating growing to more than 70,000 since the event started in 2015.
Metro Trains proudly partners with suicide and harm prevention charities R U OK? and the TrackSAFE Foundation to create a stronger, safer and more supportive rail industry.
The day holds personal significance to Metro driver Stephen King, who's been driving trains in Melbourne for nearly 40 years.
"For me, Rail R U OK? Day means a lot – not just for the railways, but the general public as a whole," Stephen said.
"To be able to just ask and check in on somebody to see how they're going can make all the difference."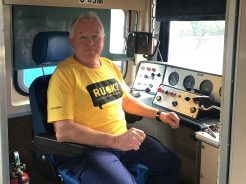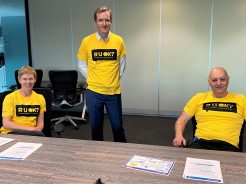 When Stephen isn't driving trains himself, he's a teacher and mentor to trainee drivers, ensuring they're equipped with the skills and experience needed to do the job.
Stephen says while his job is incredibly rewarding, it can have its challenges which are often felt through the industry.
"On any given day, at any given time, we're prepared for any incident – whether it's an accident or a trespasser. There are also things that happen away from the job that can affect us as drivers."
"There is a fair bit of stress and pressure that goes with the job for sure."
Each year this annual industry-wide event inspires rail employees to look out for one another during life's ups and downs by asking "Are you OK?" and really listening to the answer.
The event and its call to action have been made all the more significant because of COVID-19.
Chairman TrackSAFE Foundation Bob Herbert AM says Rail R U OK? Day is the largest initiative recognised by the rail industry to foster a more supportive workplace.
"Due to the nature of roles in our industry, some workers could potentially be exposed to traumatic incidents and these incidents can have lasting effects," Mr Herbert said.
"Not only this, we're all exposed to life's ups and downs so we want to empower rail employees to deal with confronting challenges which might be thrown their way."
For more information about Rail R U OK? Day visit: https://tracksafefoundation.com.au/rail-ruok-day/