Flinders Street Station in full bloom
17 Nov 2020, Andrew Nelson
It's rare for a Flinders Street Station rendezvous to take place "under the flowers."
Thanks to the City of Melbourne's Urban Blooms initiative, the main entrance of Flinders Street has been adorned with a spectacular botanical archway.
Named the 'Arch of Resilience', it was designed by Flowers Vasette as a tribute to Flinders Street's history as a site of public celebration, and uses locally grown foliage and flowers inspired by the colours of the building's facade.
More than 1,200 native stems make up the vibrant installation, including bottlebrush, eucalyptus, banksia, callistemon, sheoak, red box gums and kangaroo paw.
Metro's General Manager – Passenger Experience, Tilly Loughborough, said the floral installation was a fantastic and colourful way to welcome passengers back to the city.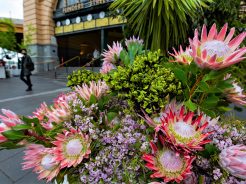 "It's created a sense of wonder and excitement among passengers, who are often pausing to admire the display as they make their way through the station," Ms Loughborough said.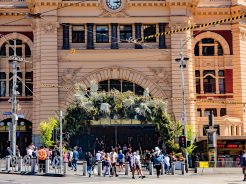 "It's also made for a more cheery environment for our Metro teams who have been working throughout this challenging time, and have remained resilient while delivering services for the first line of defence – the essential workers of Melbourne."
Urban Blooms takes place across the city from 14 – 27 November, creating a floral-themed trail throughout the city for people to enjoy. Local florists have taken over a number of Melbourne landmarks, laneways and boulevards.