Fadi making EPIC moves for his future
28 Sep 2021, James Ireland
When Fadi Duqman and his family fled Iraq, they left behind relatives, best friends and a life of war and uncertainty.
Four years later, Fadi finds himself working on one of Melbourne's biggest rail infrastructure projects and cherishing his new life in Australia.
Fadi is one of Metro Trains Melbourne's newest cadets, recruited through the Engineering Pathways Industry Cadetship Program (EPIC).
He is working on the Metro Tunnel Project within the Rail Systems Alliance, having seized an incredible opportunity to shape the future of rail in Victoria.
Fadi spent his entire life in Mosul, Northern Iraq, before fleeing the country in 2018 with his parents and sister.
"I fled Iraq due to the war and unstable conditions in my country. I miss my relatives, my best friends and the city where I grew up, my home," Fadi said.
While Fadi misses Mosul, his love for Australia and the new life he has built has quickly grown.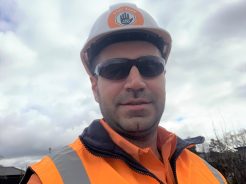 "Australia is a great country to live in with the feeling of safety and freedom," he said.
"The quality of life is high and there is plenty of fresh air, great job opportunities, and a mixture of cultures and beautiful animals."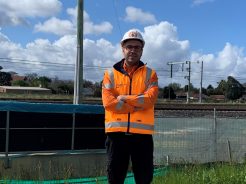 Fadi arrived in Australia with a bachelor's degree in Mechatronics from Mosul University. He said that being part of the EPIC program and the wider Metro team offers him a bright future.
"It's a great opportunity to be back working in my industry as an engineer and to be part of the Metro Trains Melbourne team," Fadi said.
"I love that I can use my technical skills and knowledge and also build my capabilities for the future."
The EPIC program employs engineers from refugee or asylum seeker backgrounds and helps launch their careers into major transport infrastructure projects.
Metro's Projects division has employed 12 refugee and asylum seeker cadets through the EPIC program – seven of whom are from the 2021 intake.
Cadets are provided an Australian engineering qualification and paid employment working on level crossing removals and the Metro Tunnel Project.
Learn more about the EPIC program here: https://levelcrossings.vic.gov.au/careers/training-for-the-future/epic-program