Change is no barrier to success for Metro's longest-serving employees
16 Sep 2020, Jake Smethurst
If there's one thing we know about the rail industry – it's that it's always changing.
Melbourne's rail network is currently experiencing an exciting transformation, with an infrastructure project agenda the likes of which the state has never seen before.
From level crossing removals and Metro Tunnel works to the introduction of new high capacity signalling and trains – the railway is looking more different by the day.
And for many of Metro's longest-serving employees, it's an opportunity to reflect on just how much change they have witnessed.
Dozens of Metro people have recently notched up milestones of up to five decades working in the Victorian railways.
Today we celebrate one of those who have helped shape a new generation of rail.
Terrence Haby – Train Driver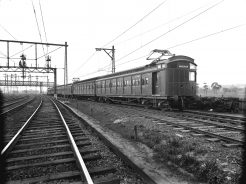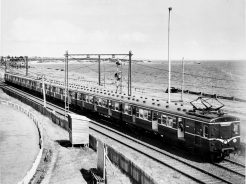 He's one of Metro's most senior and respected train drivers and has recently celebrated 50-hard-working years on the railway.
Rail runs in the blood for Terrence. His father worked as a roadmaster in a Ways and Works gang for the Victorian Railways – and despite his initial reluctance to follow in his father's footsteps, he says he owes his distinguished rail career to his late father.
"I'd done form five and I was going back to do form six and he said, 'I'll get you a job in the railways, you're old enough to look after yourself!'"
"I said to him I didn't want to go and work for the railways, I was quite happy to go back to school but he said 'it's that or nothing.' In hindsight it's the best thing he ever did for me."
After being told he was overqualified and rejecting a clerical position, Terrence spent five years as a fireman before officially qualifying as a train driver in 1975. Shortly after, he made the move to Melbourne.
"You only got drivers money when you were actually sitting in the seat and filled in a timesheet. So I came down to Flinders Street and signed up for a 12-month scheme and have been here ever since!"
Sitting behind the driver's seat of Melbourne's most iconic trains – from the Red Rattlers (Tait trains) to the blue 'Harris' and now the new X'trapolis – Terrence has had a unique viewpoint of the rail network and its significant transformation.
"There's a map here of all the rail lines and about four or five of them have been closed and no longer run. All the sidings going around the Metro area, we used to have crews, and the Flinders Street yard, that's all changed," Terrence says.
"We've got better facilities and the trains are air-conditioned now, whereas you didn't have air-conditioning in the old ones and the heaters didn't work."
"The seats are more comfortable now, whereas in the old red trains you used to just sit on a seat equivalent to a dinner plate with your feet up in the air. But now you have comfortable seating, air-conditioning and even the amenities around the system are a lot more advanced and better than what it used to be."
Terrence says the biggest improvement he's observed has been the Victorian Government's level crossing removal agenda.
"It's a good thing. It's safer. I remember we used to have about 18 sets of gates down to Frankston – you'd have to pull up before the gates and try and not to go through them."
"So it makes the job a lot smoother and easier without having to worry about the cars and worrying about them running across in front of you."
Meanwhile the signalling system has also seen significant improvements.
"The signalling used to be old semaphore arms and kerosene lamps. On a windy night the lights would be out on the signals, but now the signals are so bright – they're LEDs – you can see them from miles off."
Despite all the cold early mornings and the late nights, Terrence says he wouldn't change anything and still looks forward to getting in the driver's seat each and every day.
"I've been happy with the job – it's been a rewarding career and I can retire any time I like, but I still enjoy coming to work and doing what I've got to do."