An EPIC pathway to success for Metro engineering cadets
29 Sep 2020, Andrew Nelson
Metro Trains' partnership with the Level Crossing Removal Project (LXRP) has unlocked exciting opportunities for asylum seekers and refugees to kick-start their engineering careers on some of Victoria's biggest transport projects.
Five cadets began their professional journeys with Metro this year as part of the Engineering Pathways Industry Cadetship – or EPIC program.
The EPIC program, led by LXRP and supported by employers across Victoria, recruits qualified engineers from refugee or asylum seeker backgrounds.
EPIC aims to break down barriers to paid employment in Australia, and opens a talent pipeline for entry-level site engineers on major transport infrastructure projects, including level crossing removal sites across the network.
Metro's Executive Director – Projects Peter Gleeson says the current pipeline of major projects is the perfect environment for engineering cadets to spread their wings.
"These five cadets have been doing fantastic work for Metro to help shape the Victorian Government's Big Build, which is transforming our public transport network," Mr Gleeson said.
The 18-month cadetship gives participants workplace experience and an Australian qualification, building the skills needed to further their careers.
The five Metro cadets have received on-the-job training, support and mentoring, while completing an accredited Graduate Certificate in Infrastructure Engineering.
"The EPIC program gives people pathways to further their engineering careers – with on-site experience, a recognised qualification, and exposure to some of the biggest transport projects the state has ever seen." Mr Gleeson said.
"There's never been a better time to be part of the infrastructure transformation across our city, and with a huge demand for engineering skills, these cadets will only go from strength to strength."
Metro and the LXRP are supporting new Australians who are transitioning their international qualifications to match the workforce requirements in Victoria.
The program's success to date can be attributed to the cadets' commitment to getting the job done, and the support they receive from their mentors and managers.
Hear from some of our cadets: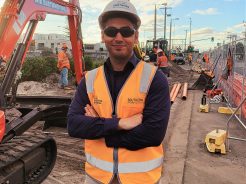 Ali Firwana
Ali is from Gaza Strip, Palestine.
He completed a Bachelor of Industrial Engineering degree before moving to Australia in January 2018.
Currently, Ali is working as a Combined Services Route Site Engineer as part of the Southern Program Alliance (SPA), delivering transformational rail projects on the Frankston Line.
In his nine months as an EPIC cadet at Metro, Ali has successfully supported the commissioning of the Carrum viaduct and requirements for the new Carrum Station. He also assisted in the commissioning of the new Kananook stabling yard.
"This job means a lot to me. The feeling I get every day when I go to site and see that we are progressing, and everyone's making it home safely, fills me with happiness and pride."
"This cadetship program basically changed my life. Having work experience and industry-focused education is incredibly useful, and I am learning new things on a daily basis with Metro."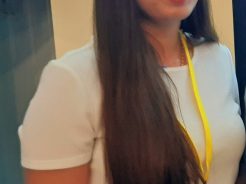 Hayat Mnayrji
Originally from Syria, Hayat has been working as an engineer in Australia for more than a year.
Hayat works within the South-Eastern Program Alliance (SEPA) on all things related to stations and VicTrack interface.
Her day to day tasks include reviewing and marking up drawings for stations and the rail corridor, submitting permits and Safe Work Method Statement reviews.
"The EPIC program is really fantastic, giving overseas engineers the opportunity to get more work experience and improve themselves, as well studying a very useful course."
"I am so proud and lucky to have been given the opportunity to work with amazing people. My life has completely changed since I started, and I will always try to do my best and learn as much as I can."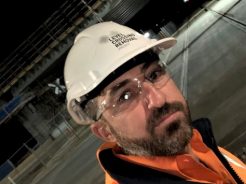 Ihab Qassab
Ihab Qassab is from Iraq. He came to Australia in January 2018 as a refugee with his wife and three children.
Ihab graduated from the University of Mosul in 2008 and holds a Bachelor in Electrical Engineering.
He has been based with Metropolitan Roads Program Alliance since December 2019, working within the rail team.
"I am very proud to be one of the EPIC program cadets. This program gave us a great opportunity to start our career in Australia and achieve our goals as we came from other countries."
"It has been an enjoyable six months with a great team. My manager and my teammates support me and help me to understand, even when I'm stuck on something. They all are happy to give me the support. Now, I feel more confident and I am very excited for the coming year."