An EPIC move makes Sandra's dreams come true
14 Sep 2021, James Ireland
When Sandra Abid made the heart-rending decision to escape Iraq with her family, she left behind her beautiful hometown, many loved ones and cultural treasures.
Eight years on, she has now built a new life in Melbourne helping shape one of the city's biggest transport infrastructure projects as an engineering cadet.
Sandra was recruited as part of the Engineering Pathways Industry Cadetship (EPIC) program – something she describes as a dream come true.
"I feel so blessed and couldn't be prouder to join Metro Trains – a remarkable company and team who work with honesty, inclusivity and safety.
"Metro has made me feel welcome and that I belong since the first day.
"There is nothing better than to be given a wonderful opportunity to contribute to the great work of the projects, that make the daily lives of millions of Victorians easier and safer," Sandra said.
Sandra arrived in Australia with a degree in Electrical Engineering from the University of Mosul. Working on the Metro Tunnel project has allowed her to use her skills to help shape a new era for public transport.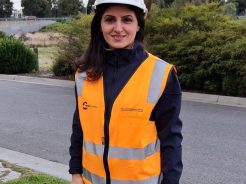 The EPIC program employs engineers from refugee or asylum seeker backgrounds and helps launch their careers on some of Victoria's biggest infrastructure projects.
Sandra originally lived in the beautiful town of Alqosh in northern Iraq and fled to Australia in 2013 with her husband and three children.
"My town's rich history reaches back thousands of years, like our important Rabban Hormizd Monastery, which was founded in 640 A.D., carved into the mountains of Alqosh.
"In the Chaldean culture, church and family are a central focus of one's life. We also have traditional food and clothes of our hometown and special Chaldean music and dance.
"Family separation is very tough, and I miss our gatherings and our days together so much," Sandra said.
And while it wasn't easy to leave her hometown, Sandra says the future looks bright.
"Coming to this beautiful country was the most important decision that we've made for our children."
Metro's Projects division has employed 12 refugee and asylum seeker cadets through the EPIC program – seven of whom are from the 2021 intake.
Cadets are provided an Australian engineering qualification and paid employment working on level crossing removals and the Metro Tunnel Project.
Learn more about the EPIC program here: https://levelcrossings.vic.gov.au/careers/training-for-the-future/epic-program