Metro Trains is gearing up for the AFL finals series
Catch Finals Fever with Metro Trains
Extra services to Hawthorn Hawks v Adelaide Crows
Before the game there are extra services to Richmond from:
Dandenong, departing 6.40pm (running express Caulfield to South Yarra)
Mordialloc, departing 6.30pm
Sunbury, departing 6.24pm
Trains depart Richmond after the game ends, as follows:
Sunbury*, departing Platform 1 at 10.44pm
Sandringham, departing Platform 2 at 10.49pm & 11.09pm
Frankston, departing platform 4 at 10.43pm & 10.54pm
Dandenong, departing Platform 6 at 10.56pm
Pakenham, departing Platform 6 at 10.49pm
Glen Waverley, departing Platform 9/10 at 10.46pm & 10.51pm
Ringwood, departing Platform 9/10 at 10.50pm
Lilydale, departing Platform 9/10 at 10.55pm
Upper Ferntree Gully, departing Platform 9/10 at 10.39pm
Trains depart Jolimont after the game ends, as follows:
Flinders Street, departing Platform 1 at 10.33pm & 10.44pm
Eltham, departing Platform 2 at 10.47pm
Greensborough, departing Platform 2 at 10.40pm
South Morang, departing Platform 2 at 10.36pm & 10.51pm
*Sunbury customers please note: The 10.58pm Watergardens service departing Flinders Street is extended to operate to Sunbury.
If you're heading to the MCG, make sure your myki is topped up and ready to touch on and off when you get to the station.
When leaving the ground from Gates 1, 2, 6 and 7 you can use Jolimont station or walk across the footbridges and access Richmond station from the Olympic Boulevard side.
If you're leaving from Gates 3, 4 and 5 you can use Jolimont Station or access Richmond Station at the Brunton Avenue or Stewart Street entrances.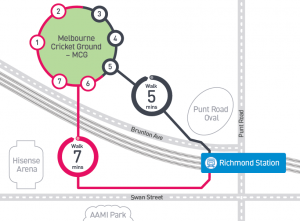 For all your travel information download metroNotify or visit metrotrains.com.au
You can also contact Public Transport Victoria (PTV) on 1800 800 007 for more information on extra services to and from these events.