A valuable opportunity to 'Try Before You Ride'
16 Oct 2019, Andrew Nelson
Passengers with accessibility needs have had an opportunity to test and trial an accessible train during the annual Try Before You Ride event at Box Hill Station.
Metro's General Manager – Passenger Experience Tilly Loughborough joined colleagues from MTR partners in London and Stockholm to see first-hand how Metro is improving accessibility for passengers – including people with a disability, parents and carers with children, and seniors.
Organised by the Department of Transport, Try Before You Ride helps people of all abilities feel more confident when using Melbourne's public transport system.
Metro drivers, Authorised Officers and station officers were on hand to help people navigate through a stationary train.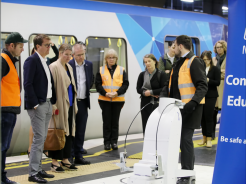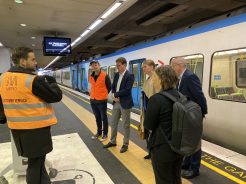 There were also demonstrations of new mechanical pushers that are being used on the network to assist passengers with wheelchairs, and ensure a safer working environment for Metro staff.
Metro has seven mechanical pushers deployed to stations on the network – including at Box Hill, Richmond, South Yarra, Heidelberg, Caulfield and Moorabbin.
Metro's General Manager – Passenger Experience Tilly Loughborough said Metro was working hard every day to make sure passengers with accessibility needs have every opportunity to use our network with independence.
"Events like Try Before You Ride are all about building confidence in passengers with accessibility needs so that they can use our trains and navigate our stations more comfortably."
Other accessibility initiatives include the development of new Assistance Animal Relief Area to help passengers with assistance dogs on their journey.
Electronic beacons linked to receivers such as smartphones have been installed at popular stations to assist vision impaired passengers.