A simple 'thank you' can make all the difference
2 Sep 2020, Jake Smethurst
Whether it's a wave and a smile, or a simple 'thank you', being kind to each other during these challenging times can make all the difference.
This week, the Department of Transport launched the 'thank you' campaign to highlight the amazing and tireless work of Victoria's public transport workers to keep the state moving during COVID-19.
The campaign encourages people using the public transport network for essential travel to reach out and offer a simple gesture, such as a wave or a smile, to show their appreciation for frontline workers.
Metro Authorised Officer Andrew Gardiner features in the campaign and says the 'thank you' message is a great way to acknowledge transport staff who are working in challenging conditions.
"Life seems pretty stressful and worrying for a lot of people at the moment, and it's really important to remember how much of an impact a friendly conversation or even a kind smile can go towards brightening someone's day."
Mr Gardiner says the kindness and generosity from passengers is already being observed across the network.
"I've come across a number of emergency workers, health care workers and supermarket staff on their way to and from work who've thanked us for keeping the trains running. The kind smiles, nods of the head and greetings from people certainly haven't gone unnoticed."
"We're really proud as a team to be able to play our part in getting our essential workers where they need to go."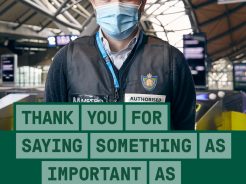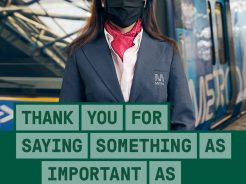 Station Master Sharon Chaile who also contributed to the campaign says the impact of kindness from the travelling public can be profound.
"There is a sense of appreciation and empathy, which brings a smile to my face and positivity during these challenging times."
Some of the ways passengers can reach out and say thank you:
A wave, nod or a smile;
Show your appreciation for exceptional customer service;
Wear a face covering for the duration of your journey;
Keep a safe distance from staff and passengers; and
Use cashless methods of payments.
You can read stories from our frontline public transport workers here: https://bit.ly/3bfMAu6