A powerful symbol that Metro is here to help
13 Dec 2019, Andrew Nelson
At Metro Trains Melbourne, our people pride themselves on being able to communicate effectively with passengers to get them where they need to go every day.
Metro was today awarded the Communication Access Symbol – recognising that our train drivers, Authorised Officers and station employees are equipped with the skills and resources to support passengers with communication difficulties.
The accreditation milestone was celebrated at a special event attended by Metro Chief Operating Officer Catherine Baxter, General Manager – Passenger Tilly Loughborough, Scope trainers and assessors, and other Metro employees.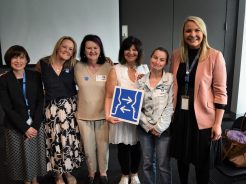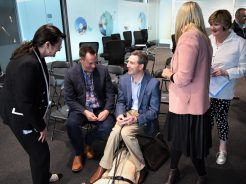 To receive the Communication Access Symbol, more than 2,500 Metro employees participated in 300 training sessions – including face-to-face workshops that provided the tools needed to help communicate messages to passengers who require extra assistance.
Picture boards, complete with metropolitan network maps, help Metro employees better understand what passengers with communication difficulties are trying to tell them.
Accessibility Manager Laura Edwards said it was landmark moment in making the Metro network more inclusive.
"Receiving this special accreditation is a great step towards making our network even more accessible to all Melburnians," Ms Edwards said.
"This wouldn't have been possible without everyone's commitment and the invaluable feedback from our people and passengers."
On the network, Metro people will be wearing the little blue badge – so our passengers can experience the best of our city with confidence and independence.