Greensborough Station's green thumb
5 Sep 2019, Employee Comms
Graham Osborn never imagined that his love of flora and working in the railways would come together.
Graham originally joined Metro as a trainee driver before taking on a station officer position on the Hurstbridge line.
When Graham's journey eventually saw him located at Greensborough Station he saw the opportunity to beautify the vacant track side areas with plants and greenery.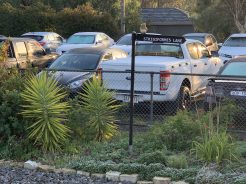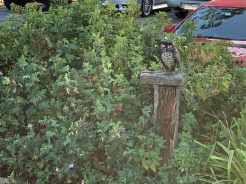 Graham put his 35 years of horticultural experience to good use.
Using cuttings and donations from Metro drivers, other colleagues and the local community, the track-side garden is now an attraction delighting locals and passengers.
Graham and his grandchildren also recycled old transport palettes to make planter boxes that now line the station platform.
Graham's good work doesn't go unnoticed. One passenger said, "The gardens which run alongside some of the tracks, the pot plants in the office and waiting room…whoever is responsible for this should be congratulated. Please pass on our compliments…and please continue with the work. Brightens our day."
Station Master Stephen Deakes said, "Everyone enjoys seeing the garden change and grow. The garden has really has had positive impact on our passengers."
Inspired by his granddaughter Lily's suggestion and a discounted ornamental owl from the local Woolies store, there are now seven ornamental owls and a mystery Echidna that call the gardens home.
Graham said, "I really enjoy seeing the children on the platform point out the owls to their parents – the gardens provide an attraction to customers while they wait for the next train.
Congratulations to Graham and the Greensborough team on making a positive difference for our passengers and community – keep up the great work!