Tickets & Fares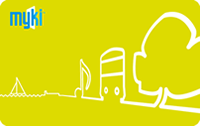 myki
Myki is your ticket to ride on Metro. Simply keep your myki topped up and carry it with you, and you'll always be ready to travel. Just touch on and off when you travel
and myki will automatically calculate the lowest fare for you.
---
You can buy a myki at:
at Metro premium stations
at myki machines at all Metro stations and some accessible tram stops and bus interchanges (full fare only)
at 7-Eleven stores or one of 800 retailers across Melbourne, click here for details
online at ptv.vic.gov.au
by calling 1800 800 007
at the PTV Hub at Southern Cross Station
---
You can top up your myki:
online at ptv.vic.gov.au  (allow at least 24 hours for processing)
by calling 1800 800 007 (allow at least 24 hours for processing)
at myki machines at metropolitan train stations and selected tram platforms stops and bus interchanges
At over 800 retailers where you see the myki sign, including all 7-Eleven stores
---
Touching on and touching off
Each time you enter a train station, or hop on a tram or bus, you must touch on at the myki reader.
Train and bus users need to touch off at the end of each trip for the lowest myki money fare. When travelling on a tram, you only need to touch off to get the lowest myki money fare if your whole trip is in Zone 2.
---
How much does a myki cost?
A full fare myki card costs $6 and a concession, seniors or child myki costs $3.
For more information about how to use your myki, visit ptv.vic.gov.au or call 1800 800 007.
---
Zones
Fares for travelling on Melbourne's trains, trams and buses are separated into two zones: Zone 1 for inner-city and Zone 2 for the middle and outer suburbs.
Use the network maps to check the zones where your travel will take place and make sure your myki covers your entire journey.
Remember: Your myki must be valid for the zone travelled in; however, when travelling in a zone boundary overlap, your myki is valid for either zone.