Metro names Catherine Baxter Chief Operating Officer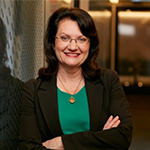 Metro has named experienced rail executive Catherine Baxter as its new Chief Operating Officer.
"Catherine is a seasoned and trusted rail operations leader who consistently delivers results, having operated in senior management roles in government-owned and ASX-listed rail companies including Queensland Rail, Interail Australia, UGL and Aurizon," said Metro's Chief Executive Officer Raymond O'Flaherty when announcing the appointment on Monday (6 May).
"Catherine is uniquely qualified to ensure Metro continues to improve service delivery by putting passengers at the heart of everything we do. I have tremendous confidence in her ability to keep raising the bar to meet and exceed the expectations of our passengers and the needs of a growing Melbourne."
Ms Baxter was previously Metro's Executive Director, People and will continue to report to the CEO.
As Chief Operating Officer, Ms Baxter will lead a team of more than 4,500 operations, infrastructure, information technology and rolling stock employees that keep Melbourne moving on a network that sees more than 800,000 journeys a day.
Ms Baxter said her priority is continuing to improve the everyday journey experience for Melbourne's passengers.
"Our network is seeing unprecedented investment in landmark rail projects, but also important is the renewal of the existing railway and ensuring that every passenger journey is safe, reliable and considered," Ms Baxter said.
"Our network has never seen so much change as we move quickly to become a true metro operation similar to other great railways that support major cities around the world."
"I am incredibly energised to help lead Metro to its next phase of service improvement tied to customer service excellence."