Support for Metro employees (COVID-19 Reporting, Employee and Technical Support)
Whether you're working on the network or from home, your safety, health and wellbeing remains our top priority.
To support you, this page has information about:
Your role in our COVID-19 reporting process
Supporting your health and wellbeing
Understanding our Epidemic & Pandemic People Policy
Updating your information in MetroMe
Working from home and our COVIDSafe return to corporate offices
IT support
COVID-19 Reporting: What you need to know
Our process outlines the steps that must be taken when an employee needs to get tested or isolate in line with public health advice. This applies in all instances, regardless of whether you have been working from home and/or attending a workplace.
One of Victoria's COVIDSafe principles is for businesses is to keep good records and be able act quickly if a staff member become unwell or has visited a known public exposure site.
Through our updated COVID-19 Reporting process, Metro has made it easier for employees and managers to get information quickly to the relevant Business Partner, for appropriate support where required.
Your role and responsibility when an employee needs to get tested, isolate or quarantine for COVID-19:
Staff members notify their manager immediately when they need to get tested and/or isolate
Managers record all occurrences of when their staff members are tested for COVID-19 or when they need to isolate or quarantine through the COVID-19 Initial Notification Form
Managers complete COVID-19 Result Notification Form once the test result is known or the staff member is approved to return to work
Employees to complete COVID-19 Contact Tracing Consent Form as a matter of urgency should they be identified by MTM as being present at a tier 2 or 3 site whilst on shift/site.
In the rare event of a confirmed COVID-19 case, the manager will additionally email SER-Reporting@metrotrains.com.au and enter into INX.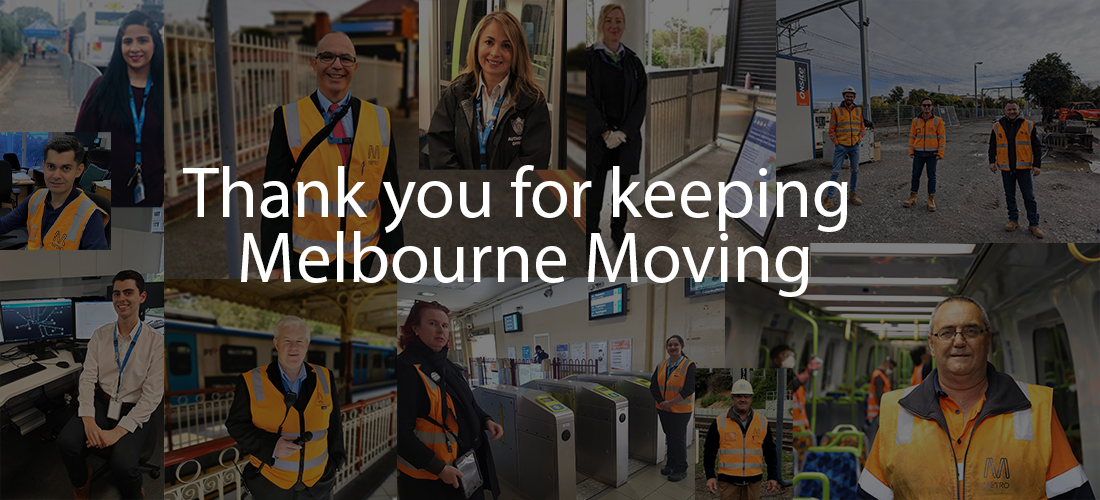 Authorised worker permits and childcare
Authorised Worker Permits were re-issued to all employees on Friday, 17 September
For your new permit to be valid, you must download and then sign it in the space provided. Please continue to carry your existing permit – and, where possible, your roster information – until you have downloaded and signed your new permit.
In addition to a valid permit, you must continue to carry your Metro ID at all times when travelling to or for work, to show to Victoria Police if requested. Victoria Police may also ask you to produce identification showing your residential address, so please ensure your address is correct in MetroMe as they will compare this ID to the information on your permit.
Permits must only be used when your role requires you to leave home for work. If you can work from home you must continue to do so.
Authorised workers who require childcare services will be able to provide the re-issued and signed permit to their childcare provider, as required.
Health & Wellbeing Support
In this challenging time, it is okay to feel anxious and have concerns
This stress can have an effect on how we interact with our colleagues, and those around us. More than ever, it is important that we care for each other, show respect and work as One Team.
The Department of Health have advice and resources related to mental health on their COVID-19 website.
Here are resources to help you and your teams through this challenging time:
The team at Beyond Blue have a confidential online anxiety checklist that can help you understand your levels of anxiety. Beyond Blue can also point you towards useful information and contacts to seek support. You can find the Beyond Blue anxiety checklist here.
Employee Assistance Program (EAP)
Our EAP provides access to confidential support in dealing with a variety of work and personal challenges. The service is available to Metro employees and their immediate family members. The types of support services include (but are not limited to):
Confidential counselling
Financial planning
Nutritional advice
Wellbeing coaching
These free EAP consultations are provided by external independent health professionals, Assure Programs, and are strictly confidential.
We have also launched counselling via SMS with Assure. You can access professional counselling delivered in real-time through SMS for any personal or work challenges by contacting 0439 449 876.
Have a look at this useful resource to understand natural response to a major event.
Find out more about health anxiety here.
Check out this short video on what Assure EAP is all about.
Access the EAP service by calling 1800 808 374 to organise an appointment or reach out for SMS counselling on 0439 449 876.
Manager support
The Manager Support Program provides Metro leaders an alternate contact point to discuss and problem solve difficult or complex issues.
Managers can confidentially discuss issues such as:
How to refer an employee to EAP that you are concerned about
How to identify signs of stress and mental health issues in your team
How to support team members on extended sick leave or return to work plan
Coaching on addressing performance issues or conflicts in the team
Staying vitalised as a leader – stress management and self care
The Manager Support Program can be accessed by calling 1800 505 015.
Epidemic & Pandemic People Policy
The Epidemic and Pandemic People Policy gives our people access to additional paid leave, once they have used their existing personal and/or carers leave balances and annual leave entitlements greater than 20 days
This policy provides:
Up to 5 working days of paid Early Intervention Special Leave for employees who are unable to work from home, have been directed to self-isolate and are required to undergo a medical assessment or testing.
Up to 10 working days of paid Epidemic/Pandemic Special Leave for employees who are unable to work from home, have used their existing personal or carers leave and annual leave entitlements above 20 days, and:

Have a confirmed case of the infectious disease (in this case, COVID-19); or
Are required to care for an immediate family or household member who has the infectious disease, is required to self-isolate or as a result of school, or care centre closures.
The policy is available here, and the procedure is available here.
Important update for employees considering interstate travel is here.
All leave applications must be submitted in the usual pay system (such as MetroMe or RosterOn). If this is not possible, please complete a Special Leave Application Form. The completed form will need to be submitted to your manager for approval.
You can also use this guidance document to help you understand the policy. Some frequently asked questions about the policy are available here.
Employees can also access their Annual Leave and Personal Sick Leave during this time.
Updating your contact details in MetroMe
In the event that you or one of your close colleagues has a confirmed case of COVID-19, Metro needs to be able to contact you to provide advice
To do this, your mobile number must be in MetroMe – our people management system that records and maintains all employee information securely in one place. A current profile photo must also be uploaded.
For more detailed instructions, refer to the following Quick Reference Guides:
How to add your mobile phone to MetroMe
From your phone or computer, click on this link to access MetroMe or type the full URL into your browser: https://performancemanager10.successfactors.com/sf/start/#Shell-home
Enter your company ID: metrotrain
Enter your standard username e.g. firstname.lastname followed by your standard password
Enter your work email address, followed by your standard password. You will now see your home screen.
Click on the 'My Profile' square. This will show what personal information you have listed in MetroMe.
Take the time to check that all your personal information is correct, including that your mobile number is listed and your Emergency Contact.
If you need to add or update your mobile number and/or other contact information:
Click on the down arrow in the far right, next to 'Public Profile'
Click on Contact Information
Click on the small pencil icon next to Contact Information
Type in your work mobile phone number in the relevant field and in the +614 format with no spaces. You may also wish to add your personal mobile number in the relevant field. Important: your mobile number must be entered in the +614 format with no spaces. For example, if your mobile number is 0412 345 678 then you need to enter +61412345678 into the field.
Update all other contact information as required
Scroll down and click on Save
Working from Home and our COVID-Safe return to offices
Metro's COVIDSafe return to office locations is on hold for now and employees who can work from home must continue to do so
Our approach continues to reflect the latest official health advice and our Zero Harm and Caring values. Communications to relevant teams are ongoing, with advice subject to change in line with the evolving pandemic situation. Employees are encouraged to speak with their one-up leader to address any related questions.
All appropriate measures are in place regarding the health and safety of our people. This includes around cleaning and other COVID-Safe processes, consistent with official health advice.
The Working From Home Factsheet, available here, outlines how to set up your workspace for your wellbeing along with guidance on key IT systems.
If you need to visit a frontline location
When it is safe and appropriate to do so, some colleagues will need to visit frontline locations to get their computer on to the Metro network.
When you visit a Station, Depot or other relevant frontline location, follow these five steps to help keep all of us safe:
wear your Metro ID at all times and have your signed Authorised Worker Permit available
follow all local COVID-Safe requirements; this includes the latest public health advice and location-specific requirements
introduce yourself to colleague
sign-in when you arrive – no matter how short your visit
sign-out when you leave.
IT Support
Resources are available to help you navigate Metro's IT systems from home and ensure the integrity of our systems 
Microsoft Teams is Metro's chat-based software with functionality to host voice or video calling. It is also a useful tool for storing and sharing of files with colleagues while working from home. You can use teams in a browser or download it onto your Metro laptop or PC and mobile device. For instructions on how to install Microsoft Teams on various devices and how to familiarise yourself with the platform, click here.
VPN is available for Metro employees to allow access to systems and resources from home. If you would like to use the Metro VPN, log a request using the 'Request for VPN access (Remote Working)' option in the OCMS Self-Service portal if this is available to you. Otherwise, you can call the OCMS Technology Service Desk (1800 773 475) to arrange access and receive a user guide when your access is enabled.
OneDrive is a useful tool for storing personal files while working from home. A guide to using OneDrive is available here.
Here are links to some of our commonly used applications and platforms:
We all have a responsibility to ensure that Metro's IT assets such as laptops and computers are accounted for and remain in good condition while our teams work remotely. Make sure your manager knows the ID number of any Metro assets you have taken home. The number is located on a sticker on your asset and starts with 'MT-'.
The OCMS Technology Service Desk team are still operating 24/7 and can help if you are experiencing system issues. You can contact them on 1800 773 475. Please be patient and kind as your colleagues are doing everything they can to help.
Zoom should not be used at Metro.
There are serious privacy and data security concerns around Zoom, a remote conferencing service. It is important for the protection of your personal information and Metro data that you do not use Zoom.
In the event you are invited to an external meeting using Zoom, here is a list of precautionary Do's and Don'ts:
DO's
DON'Ts

Update the Zoom mobile app and the Zoom desktop app to the latest version.
Choose "Join a Meeting" as guest if you are using Zoom mobile app or "Join from your browser" by clicking the link in your desktop invitation.
Generate a new Meeting ID for each meeting.
Set a password for the meeting.
Send the invitation link and password to the meeting participants only.
Lock the meeting after the meeting has started if necessary.

Don't sign in Zoom using personal accounts such as Google or Facebook.
Don't share or present confidential documents and screens in Zoom.
Don't click on links in Chat within Zoom from untrusted parties.
Phishing attacks and cyber security
In the current environment, we are seeing a rise in scams using the coronavirus as bait to carry out cyberattacks. It is vital we remain vigilant to protect ourselves from these scams. At Metro, we have introduced multi-factor authentication (MFA) to better protect our core systems. See more details about the roll out of MFA including a list of systems it will apply to and a handy set-up guide for employees here.
Scams can be very convincing. Scammers are sending emails or messages linked with fake websites to make it appear that they are from an official institution or medical supplier. These scams, known as phishing attacks, are designed to steal personal data, spread malware and conduct money fraud.
Good practices to protect your data include:
Verifying the destination of embedded links by hovering the mouse pointer over the hyperlink without clicking it.
Never click any hyperlinks or open any attachments provided in suspicious emails
Beware of emails asking for sensitive data (e.g. account passwords or bank account information);
Don't trust emails simply because the sender's email addresses are from someone with authority. Seek verification via telephone if in doubt. Use official contact channels or contact details that you already have on file.
Check the sender's email address carefully
Do not visit suspicious and unknown web sites from your PC or mobile devices
Report suspected scams to OCMS Service Desk (1800 773 475)
Do not forward the phishing emails to other colleagues
Install anti-malware software and keep it up to date
Do not install mobile Apps from unknown sources
Use well-known and secure Wi-Fi network only
Use trusted websites for up-to-date, fact-based information about COVID-19