A breakthrough moment for Tunnel Boring Machine 'Joan'
28 Feb 2020, Andrew Nelson
The Metro Tunnel is one step closer to transforming the way we move Melbourne with the first tunnel boring machine (TBM) 'Joan' breaking through to the western tunnel entrance at South Kensington.
Joan – named after Victoria's first female Premier Joan Kirner – launched from the Arden Station construction site in August 2019.
She has since travelled 1.2 kilometres underground, lining the tunnel wall along the way with 4,200 curved concrete segments.
Metro Trains' Metro Tunnel Project Director Mike Moyes says Metro has played an important role in supporting the tunnelling works, while ensuring trains can continue to operate for Melbourne.
"Our 'One Team' approach has helped Rail Projects Victoria complete the first section of this city-shaping project," Mr Moyes said.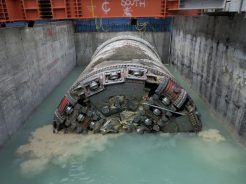 "Our teams have been working behind the scenes to support the tunnelling contractor, Cross Yarra Partnership, and ensure we keep trains moving for our passengers at the same time."
Premier Daniel Andrews and Minister for Transport Infrastructure Jacinta Allan visited South Kensington last weekend to celebrate the major milestone.
Joan will be reassembled at Arden and begin the second leg of its journey towards the city in the coming months, with the second TBM 'Meg' – named after Australian women's cricket captain Meg Lanning – close behind.
Works are also ramping up at the new Anzac Station under St Kilda Road in preparation for the final two TBMs to begin digging out the tunnels towards the Metro Tunnel's eastern entrance in South Yarra.